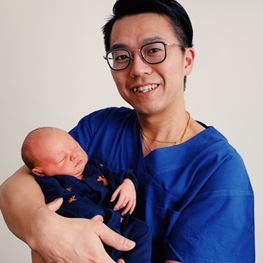 Specialities
Maternity (Obstetrics)
Gynaecology
Areas of Interest
General obstetrics
Laparoscopic gynaecological surgery
Management of abnormal cervical screening tests
Mater Hospital, North Sydney, NSW
Level 1, 443 Victoria Avenue
Chatswood NSW 2067

T: (02) 8040 5581
F: (02) 8076 7299
Level 1/300 Barangaroo Avenue
Barangaroo NSW 2000

T51, Mezzanine Level
East Village Shopping Centre
2-4 Defries Ave
Zetland NSW 2017
Biography
Dr Kevin Koh is an experienced obstetrician with a primary focus on pregnancy, childbirth and related health. His practising philosophy is to provide individualised and expert care to all women.
Dr Kevin Koh is a specialist obstetrician and gynaecologist with over 10 years' experience. He understands that pregnancy can be a time of anxiety and uncertainty and he is committed to providing support and reassurance while minimising risks to both the mother and baby. Kevin supports evidence-based practises and encourages patients to be fully involved with the decision-making process.
Having graduated from UNSW, Kevin undertook the majority of his specialist training at The Royal Hospital for Women in Sydney. He then moved to Calvary Hospital, Canberra for 2 years of advanced training before receiving the fellowship of the Royal Australian and New Zealand College of Obstetricians and Gynaecologists.
Kevin has been teaching medical students from UNSW and Sydney University. He currently holds staff specialist appointments at the Royal Hospital for Women and Canterbury Hospital, and will be a training supervisor for specialist trainees. Born in Taiwan, Kevin speaks fluent Madarin and can support those who speak English as a second language.
Affiliations & Memberships