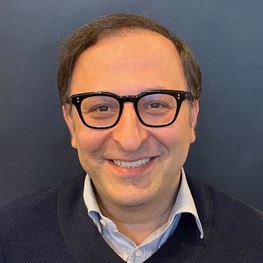 Areas of Interest
Interventional cardiology
Coronary artery disease
Trans-catheter treatment of coronary artery disease
Mater Hospital, North Sydney, NSW
Mater Hospital
Mosman Cardiology,
754 Military Road,
Mosman NSW 2088
T: (02) 9960 8400
F: 9960 8411
Biography
Dr Keyvan Karimi is a Cardiologist at Mater Hospital, North Sydney.
Dr. Keyvan Karimi is an interventional cardiologist, specializing in trans-catheter treatment of coronary artery disease (a doctor that treats the coronary artery blockages with balloons and stents).
He graduated from Tehran University of Medical Sciences in 2002. He completed his training in internal medicine in London, United Kingdom, and trained in cardiology at Royal North Shore Hospital in Sydney. Dr. Karimi trained in interventional cardiology (treating coronary blockages with balloons and stents) at Columbia University Medical Center in New York. He returned to Sydney in 2018, and is a Visiting Medical Officer at Royal Prince Alfred Hospital, the Mater Hospital and the Strathfield Private Hospital, where he treats cardiology patients and performs cardiac procedures.
Dr. Karimi completed a Doctorate of Philosophy (PhD) at the University of Sydney in 2014, studying the adverse effects of diabetes on heart and vessels. He also spent two years doing post-doctoral studies at Columbia University in New York, studying new treatments for coronary artery disease, particularly by using new technologies that image inside the coronary vessels to improve the outcomes of unblocking arteries with stents. Together with a colleague at Columbia University, Dr. Karimi pioneered a new way of treating coronary blockages in patients with severe kidney disease, which minimizes the adverse effects of contrast ("dye") used during the procedure on kidney function in this group of patients. Dr. Karimi has published more than 50 papers in leading cardiology journals and has been an invited speaker and a faculty at international cardiology conferences. He is a Senior Lecturer at the University of Sydney, a New South Wales Health Research Fellow and a Clinician-Scientist at the
Heart Research Institute in Sydney
.
Dr. Karimi's qualifications include Doctor of Medicine (MD) and PhD. He is a Fellow of the
Royal Australasian College of Medicine
and a Member of the
Royal College of Physicians of London
.