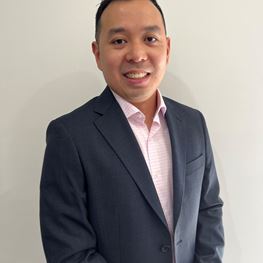 St Vincent's Private Hospital Werribee, VIC
Consulting Suites
St Vincents Private Hospital
240 Hoppers Lane
Werribee VIC 3030
T: (03) 9218 8020
F: (03) 9218 8024
Biography
Dr Mike Nguyen is a medical oncologist who provides comprehensive care for patients with cancer at all stages of their cancer journey.
Mike graduated from the University of Tasmania and completed speciality training in medical oncology at the Goulburn Valley, Austin and St Vincent's hospitals. Mike gained extensive experience in clinical research as a clinical trials fellow at Monash Health with active involvement in gastro-intestinal, breast, lung and early phase clinical trials and has authored several journal publications and conference presentations.

Mike is a member of the Medical Oncology Group of Australia (MOGA), the American Society of Clinical Oncology (ASCO), the European Society of Medical Oncology (ESMO), the Australasian Gastro-Intestinal Trials Group (AGITG) and the Australian and New Zealand Urogenital and Prostate Cancer Trials Group (ANZUP).