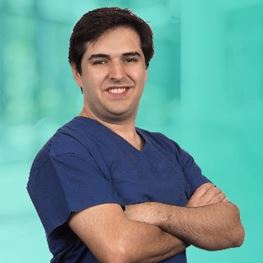 Areas of Interest
Urological cancer
Prostate
Kidney
Bladder
Testis
Adrenal Glands
Men's Health
Mater Hospital, North Sydney, NSW
Mater Clinic
Suite 1.17,
3-9 Gillies Street
Wollstonecraft NSW 2065
T: (02) 9519 5559
F: (02) 9557 5034
Suite 3,
155 Missenden Road,
Newtown NSW 2042
Suite 101A, Level 1,
74-76 Burwood Road
Burwood NSW 2134
Suite 101A, Level 1,
74-76 Burwood Road
Burwood NSW 2134
Biography
Dr Nari Ahmadi is a urologist and urological cancer surgeon with sub-specialisation in Robotic and Laparoscopic Urology at Mater Hospital, North Sydney.
Dr Ahmadi obtained his medical degree from the University of New South Wales and his Masters of Surgery at the University of Sydney. Following completion of his Urological surgical training, he completed an additional 2-year fellowship in 'Urology and Advanced Robotic and Laparoscopic Urology' at the prestigious Institute of Urology, University of Southern California, Los Angeles USA.
Dr Ahmadi has trained along world renowned leader in Urology, Professor Inderbir Gill, and locally works alongside his Australian colleagues to develop minimally invasive techniques for complex procedures utilising the da Vinci Surgical Robot system. Dr Ahmadi offers his patients treatment in general urological conditions as well as urological cancer surgery.