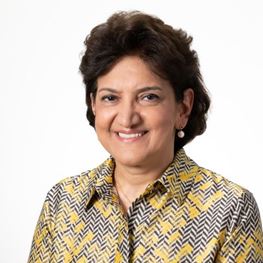 Dr Nasrin Davarpanah
MD, FRCSEd, FRACS
Languages: English
Areas of Interest
Breast Cancer risk assessment
Mastectomy & lumpectomy
Breast examinations
Sentinel Node Biopsy
Explantation (Implant Removal)
St Vincent's Private Hospital Toowoomba, QLD
Suite 19A, Level G, Entrance 2
St Vincent's Private Hospital Toowoomba
22-36 Scott Street
Toowoomba QLD 4350
Biography
Dr Nasrin Davarpanah is a General Surgeon with a special interest in Breast Surgery.
Nasrin completed her training in Breast Oncoplastic Surgery in the United Kingdom and obtained her Fellowship in Breast & General Surgery at the Royal College of Surgeons Edinburgh in 2010 before moving to Australia in 2011. Dr Davarpanah has been working as a Consultant General Surgeon at Toowoomba Hospital since 2017.
The following surgical services are offered by Dr Davarpanah at St Vincent's Hospital:
Breast Service
• Breast Cancer risk assessment
• Breast examinations
• Lumpectomy with Oncoplastic reconstruction
• Mastectomy
• Axillary Clearance
• Sentinel Node Biopsy
• Therapeutic Breast Reduction
• Explantation (Implant Removal)
• Lymphedema Management
General Surgery Service
• Hernia (Laparascopic & Open)
• Gall Bladder (Laparascopic & Open)
• Skin Lesions
• Coloscopy and Gastroscopy
• Perianal Disease (Haemorrhoids, Fissure & Fistula)
• General Surgery Emergencies
St Vincent's Hospital is equipped with the following facilities:
• Breast Ultrasound, Mammogram and MRI (Qld X-Ray)
• Ultrasound /Stereotactic guided Biopsy, Fine needle aspiration
• Breast Lymphoscintigraphy for Sentinel Node Biopsy
• Pre-operative breast lesion localization (US/Stereotactic)
• Intraoperative specimen radiography during breast conserving surgery
Our hospital funded Breast Care Nurse provides support to patients through every step from the time of diagnosis and throughout treatment.