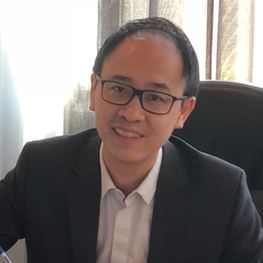 Areas of Interest
Diabetic foot pathology
Arterial disease
Venous disease
St Vincent's Private Hospital Griffith, NSW
St Vincent's Private Community Hospital Griffith
Consulting Rooms, Ground Level
41-45 Animoo Ave
Griffith NSW 2680
Riverina Vascular Care Centre - Nathaniel Chiang
Suite 1/36 Hardy Avenue
Wagga Wagga NSW 2650
T: 02 5954 9968
F: 02 9072 9608
Biography
Dr. Nathaniel Chiang is a Vascular and Endovascular Specialist who provides consultation services at St Vincent's Private Community Hospital Griffith.
Dr. Nathaniel Chiang specialises in many areas of vascular disease, in particular diabetic foot pathology, management of extremity ulcers, arterial insufficiency and claudication, renal dialysis access, aortic aneurysms, carotid artery disease, temporal artery biopsies, chemotherapy venous access (Port-a-cath) and varicose veins. He has special interests in minimally invasive endovascular management of arterial disease and varicose veins (laser, radio-frequency ablation surgery and sclerotherapy).
Dr. Nathaniel Chiang previously worked as a Vascular and Transplant Surgeon in Melbourne at Austin Hospital, Northern Hospital, Warringal Hospital and Knox Private Hospital, as well as Gosford and Wyong Hospitals in Central Coast. He believes strongly in working from a multidisciplinary viewpoint and promoting patient-centred care. He has an academic interest and has completed his PhD in tissue oxygenation and wound healing. With his upbringing in Hong Kong and the United Kingdom along with his multicultural background, Nathaniel speaks fluent English and Cantonese. He completed his medical degree at the University of Edinburgh. Nathaniel's surgical training was completed with the Royal Australasian College of Surgeons based in New Zealand and Melbourne.
Affiliations & Memberships