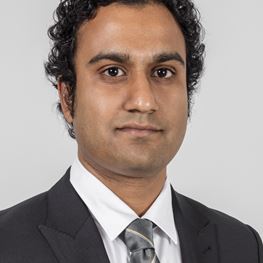 Areas of Interest
Spine surgery
Brain tumour surgery
Skull base surgery
General neurosurgery
Mater Hospital, North Sydney, NSW
Sydney Spine Institute
Suite 107/3 Railway Parade
Burwood NSW 2134
T: (02) 9715 5007
F: (02) 9747 6630
Biography
Dr Omprakash Damodaran is a highly trained neurosurgeon who treats brain tumours, as well as spine and nerve conditions. He is particularly interested in minimally invasive surgery.
Dr Omprakash Damodaran is an Australian-trained surgeon with wide neurosurgical expertise in base of skull surgery, pituitary surgery, hydrocephalus, brain tissue malformations and peripheral nerve conditions.
Omprakash obtained a Master of Surgery from the University of Sydney and his research was on the management of the highly malignant primary brain tumour, glioblastoma multiforme.
A Fellow of the Royal Australasian College of Surgeons (RACS), he is also a member of the Neurosurgical Society of Australasia (NSA). Omprakash completed a complex spine fellowship at St Vincent's Hospital, Melbourne (2015) and was awarded the Asia Pacific Spine Scholarship (2016) and a Spine Fellowship at the Centre for Spine and Orthopedics in Denver, Colorado (2017).
His neurosurgical training was undertaken throughout major teaching hospitals in New South Wales, Western Australia and Victoria. Omprakash has published extensively in peer-reviewed journals and continues to have a strong interest in research.
He chairs the Neuro-Oncology MDT meeting at Concord Hospital and is currently appointed as a consultant Neurosurgeon at Concord General Repatriation Hospital, the Mater Hospital and Campbelltown Private Hospital .
Affiliations & Memberships