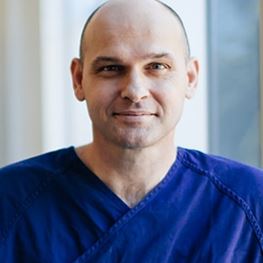 Specialities
Gastroenterology & Hepatology
Areas of Interest
Barrett's oesophagus
Advanced therapeutic endoscopy
Bariatric endoscopy
Endoscopic suturing
St Vincent's Private Hospital Northside, QLD
Digestive Diseases Queensland
Level 1
St Vincent's Northside Medical Centre
St Vincent's Private Hospital Northside
627 Rode Road
Chermside QLD 4032
T: (07) 3861 4866
F: (07) 3861 4897
Biography
Dr Patrick Walsh is a gastroenterologist with expertise in endoscopic ultrasound, endoscopic suturing, and advanced therapeutic and weight loss endoscopy.
Patrick graduated with a medical degree from the University of Otago in 1995. After moving to Sydney, he completed his basic and advanced gastroenterology training at St Vincent's and Concord Hospitals, gaining experience in endoscopic ultrasound and advanced endoscopy.
He then sought further training in endoscopy, undertaking an advanced fellowship at Westmead Hospital, before moving to the USA in 2005 to pursue a fellowship in endoscopic ultrasound.
Since returning to Australia in 2006, Patrick has consulted at hospitals across Brisbane and established a successful private practice. Staying at the forefront of his discipline, he was the first surgeon in Australia to perform an Overstitch™ weight loss procedure, and is routinely invited to speak at expert meetings on the emerging role of endoscopy in weight loss surgery.