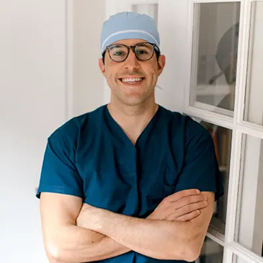 Specialities
Ear Nose & Throat (Otolaryngology)
Head & Neck
Areas of Interest
Transoral Robotic Surgery
Thyroid & Parathyroid
Head & Neck Cancer & Reconstruction
RFA Thyroid Nodule
St Vincent's Private Hospital Sydney, NSW
St Vincent's Private Hospital
Suite 1403, Level 14
406 Victoria Street
Darlinghurst NSW 2010
Biography
Dr Peter Floros is an Australian trained Otolaryngologist (Ear, Nose and Throat Surgeon) and Head and Neck Surgeon, with a special interest in in Head and Neck, Robotic, Reconstructive and Nasal/Sinus surgery.
Dr Floros completed his Otolaryngology, Head and Neck surgical training in NSW and ACT at Sydney, Canberra and Newcastle hospitals. Upon completion of surgical training in 2017, he completed a Fellowship in Head and Neck and Airway reconstruction surgery at St Vincent's Hospital, Sydney with Associate Professor Dr Richard Gallagher. During this appointment, he did specialised training in advanced Head and Neck surgery, Robotic Surgery and complex Airway procedures.
Dr Floros then completed an international surgical fellowship in Advanced Head and Neck Oncology surgery which included Trans-oral Robotic and Reconstructive Head and Neck Surgery with Dr J. Scott Magnuson at Advent Health Celebration Hospital, Orlando, Florida. It was during this international fellowship, he became the first Australian surgeon to perform a robotic Head and Neck Cancer surgery with the Davinci Single Port Robotic system.
Although thoroughly trained in treating all aspects of the Ear, Nose and Throat treating adults and paediatrics, Dr Floros has specialised training and an interest in the following surgical procedures:
– Transoral Robotic Surgery (TORS)
– Head & Neck Reconstruction
– Thyroid Surgery
– Parathyroid Surgery
– Salivary Glands Surgery
– Head & Neck Cancer