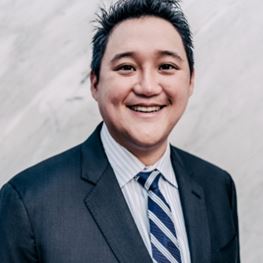 Dr Phil Huang
BEng(Hons), MPhil CANTAB, MBBS (Hons), FRACS(Orth), FAOrthoA
Visit specialist website
Languages: English, Mandarin
Areas of Interest
Hip & Knee replacement
Hip & Knee reconstruction
Mater Hospital, North Sydney, NSW
North Shore Medical Centre
Level 2, 66 Pacific Highway
St Leonards NSW 2065
St Vincent's Private Community Hospital
41–45 Animoo Avenue
Griffith NSW 2680
T: (02) 6966 8200
F: (02) 6966 8310
Biography
Dr Phil Huang is an outstanding orthorpaedic surgeon with particular expertise in incorporating everyday technology into medical techniques. He has a special interest in hip and knee construction and is passionate about delivering quality healthcare for all.
Dr Phil Huang is a highly qualified orthopaedic surgeon who focusses on applying technological techniques to everyday medicine. He has broad surgical experience ranging from hip and knee replacements through to ACL injuries, trauma and fractures. Phil initially completed his degree in biomedical engineering at the Queensland University of Technology. Here he encountered an orthopaedic surgeon whose father pioneered osseointegration in maxillofacial surgery.
Phil then went on to attend Cambridge University and completed his masters on modelling the articulation of the elbow joint. Increasingly drawn to orthopaedics, he finally commenced his medical studies at the University of Sydney. After graduating, Phil spent his junior years at Royal North Shore Hospital and completed his orthopaedic training in NSW. In his final year as a registrar, he worked at the Mater Hospital under the guidance of Professor Leo Pinczewski, Professor Justin Roe and Professor Bill Walter Jr during which time he assisted in over 450 ACL reconstructions. Phil then completed his sub-specialty Fellowship at the Mater Hospital for a further 12 months in complex hip and knee revisions.
When subsequently awarded the coveted ISOC Traveling Fellowship, Phil was able to further develop his specialised capabilities in cartilage restoration and the use of robotics in surgery through working alongside world-leading surgeons at University Hospitals Leuven (Belgium), Mayo Clinic (Rochester, MN, USA), and Hospital for Special Surgery (New York, NY, USA). Phil is a fellow of the Royal College of Surgeons and the Australian Orthopaedic Association.
Affiliations & Memberships