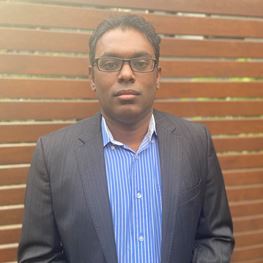 Areas of Interest
Heart Failure
Echocardiography and Stress Echocardiography
Complex and Chronic Cardiovascular Care
Community care models
St Vincent's Private Hospital Werribee, VIC
Heartwest
153 Heaths Road
Hoppers Crossing VIC 3029
T: (03) 9748 7377
F: (03) 9748 7388
Biography
Having qualified from the University of Adelaide in 1998, Balan commenced basic cardiology training (2003) at Queen Elizabeth Hospital, SA. He undertook further general cardiology training at the National Heart Centre, Singapore, returning to Flinders Medical Centre (SA) in 2006, after completing 18 months sub speciality training in Echocardiography and General Cardiology.
Balan completed Cardiology specialist qualification from the Royal Australasian College of Physicians in 2007. In 2008 he commenced 2.5 years research of heart failure and kidney impairment at The Department of Epidemiology and Preventive Medicine, Monash University, Victoria.
He worked on basic science and clinical research exploring uremic toxins on heart function and novel kidney biomarkers. In 2011, he took up a position as Staff Cardiologist at the Royal Darwin Hospital and Alice Springs Hospital. In the Northern Territory he started 3 ethics approved projects with the Baker Heart and Diabetes Institute, Alice Springs and Flinders Human Behaviour and Health Research Unit South Australia, exploring Indigenous patients' health journey, self-management and post marketing research in heart failure.
He returned to Melbourne in 2015. In addition to clinical work he continues research as a Senior Lecturer at Flinders University Northern Territory Medical School with local and external collaborators. Despite building a busy clinical practice, he is keen to maintain research interest to help close clinical gaps for heart failure in the fields of self-management, disease management programs, clinical audits and targeted bedside to bench basic research for the Western region.
From his research he has received several awards and honors, such as: Australian Postgraduate Award, RACP Fellows Contribution Award, Heart Foundation and Health Professional Scholarship, Wyndham Council Large Grant. He is an editor on several cardiac journals, has authored an editorial series, 40 research articles and book chapters. He is completing his PhD and participating in ongoing clinical trials. He is a fellow of the RACP and CSANZ. He consults at Hoppers Crossing, St Albans, Essendon and Coolaroo rooms.