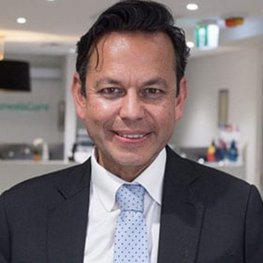 Dr Raj S. Jagavkar
MBBS(Hons), FRANZCP
Languages: English
Areas of Interest
Prostate cancer
Lymphoma
Lung cancer
Upper gastrointestinal cancer
Genitourinary cancer
St Vincent's Private Hospital Sydney, NSW
GenesisCare
Suite 708
St Vincent's Clinic
438 Victoria Street
Darlinghurst NSW 2010
T: (02) 8302 5400
F: (02) 8302 5449
GenesisCare
25 Rocklands Road
The Mater Hospital
Wollstonecraft NSW 2065
T: (02) 9458 8050
F: (02) 8920 1583
Biography
Dr Raj Jagavkar is a radiation oncologist specialising in prostate brachytherapy and urological malignancies. He has further expertise in haematological, lung and upper gastrointestinal cancers.
Raj was trained in Sydney with subspecialty training in prostate brachytherapy at the Long Beach Memorial Medical Centre, California and the Swedish Medical Centre, Seattle, Washington.
Raj has over 20 years' clinical experience and has been practicing on the St Vincent's Campus a since 2002. He graduated with honours from the University of New South Wales in1992 and was awarded the Fellowship of The Royal Australian and New Zealand College of Radiologists in 2000.
He has served as the Director of Radiation Oncology at St Vincent's Hospital and Chairman of the Australasian Brachytherapy Group. He is a leading member of the St Vincent's prostate brachytherapy program for both temporary and permanent implants, and is a founding member of the St Vincent's Prostate Institute. This unit is now a world leader in the field of prostate brachytherapy.