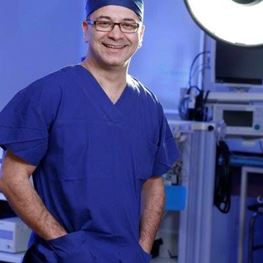 Specialities
Neurosurgery
Cancer
Head & Neck
Areas of Interest
Brain and spinal cord tumours
Complex degenerative spine conditions
Neuroendoscopy
St Vincent's Private Hospital Griffith, NSW
St Vincent's Private Hospital Sydney, NSW
St Vincent's Private Community Hospital
Consulting Suites
41–45 Animoo Avenue
Griffith NSW 2680
T: (02) 9553 9477
F: (02) 9553 9804
Suite 705, Level 7
St Vincent's Clinic
438 Victoria Street
Darlinghurst NSW 2010
T: (02) 9553 9477
F: (02) 9553 9804
Biography
Dr Saeed Kohan is a neurosurgeon and spinal surgeon with sub-specialty interests in complex spinal pathologies, neuro-oncology, neuroendoscopy, and complex congenital spine malformations.
Dr Saeed Kohan is a specialist in neurosurgery and spinal surgery. He believes that the best way to restore function in all his patients is to provide individualised treatment plans that take into consideration each person's unique medical and lifestyle needs.
Saeed graduated from the University of New South Wales in 1998, and then completed his specialist neurosurgical training at the spinal injury units of the Prince of Wales and Austin Hospitals in 2007. Following this he undertook a fellowship in spinal surgery at St Vincent's Hospital Sydney, before travelling to Turkey to complete a fellowship in paediatric neurosurgery where he gained experience in the management of congenital spinal malformations, neuro-oncology, and minimally-invasive procedures.
Since his return to Australia in 2009, Saeed has practised both privately and as a consultant neurosurgeon and spine surgeon in hospitals across Sydney and regional NSW.
Affiliations & Memberships