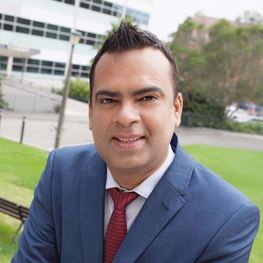 Specialities
Colorectal
General Surgery
Areas of Interest
Laparoscopic bowel cancer surgery
Haemorrhoids & anal fissures
Laparoscopic cholecystectomy
Mater Hospital, North Sydney, NSW
Suite 7,
25-29 Hunter Street
Hornsby NSW 2077
T: (02) 8599 9819
F: (02) 9012 0976
Mater Clinic,
Suite 1.13, 3-9 Gillies Street,
Wollstonecraft NSW 2065
Biography
Dr Sanjeev Golani is a colorectal and general surgeon specialising in laparoscopic procedures.
Dr Golani completed his training in major Sydney and NSW Hospitals. After obtaining his Fellowship from the Royal Australasian College of Surgeons, he went on to pursue more specialist colorectal training for 2 years in Australia. He furthered his specialist training with a prestigious appointment as a Senior Colorectal Fellow in the United Kingdom at Bristol Royal Infirmary for another year.
Dr Golani has completed over 20 years in surgery and has a vast experience with clinical and diagnosis of complicated symptoms. He has also published research articles in both colorectal and general surgery journals.