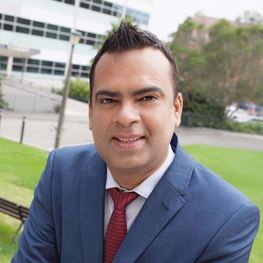 Specialities
Cancer
Colorectal
General Surgery
Areas of Interest
Bowel cancer
Hernia repair
Gall bladder surgery
Colonoscopy
Rectal cancer
Anal fistulas & fissues
Mater Hospital, North Sydney, NSW
Suite 7,
25-29 Hunter Street
Hornsby NSW 2077
T: (02) 8599 9819
F: (02) 9012 0976
Mater Clinic,
Suite 1.13, 3-9 Gillies Street,
Wollstonecraft NSW 2065
Biography
Dr Sanjeev Golani is a colorectal and general surgeon specialising in laparoscopic procedures.
Dr Sanjeev Golani completed his Surgical Education & Training (SET) in major Sydney & NSW Hospitals. After obtaining his fellowship from the Royal Australasian College of Surgeons, he went on to pursue more specialist colorectal training for two years in Australia. He furthered his specialist training with a prestigious appointment as a Senior Colorectal Fellow in the United Kingdom at Bristol Royal Infirmary for another year, a training position accredited by the
Royal College of Surgeons, Edinburgh, UK
. Dr Golani is a member of the Colorectal Surgical Society of Australia and New Zealand (CSSANZ).
Areas of particular interest include:
Bowel Cancer - Dr Golani has a high success rate of performing all the cancer resections including bowel cancers laparoscopically.
Hernia repair - Dr Golani routinely does general surgical operations like laparoscopic inguinal, femoral and umbilical hernia surgery.
Gall Bladder Surgery - Laparoscopic Cholecystectomy for Gall Stones, Dr Golani has performed more than 500 gall bladder procedures.
Colonoscopy - He has been trained in advanced endoscopic skills and can remove large polyps endoscopically. He is an accredited member of Gastroenterological Society of Australia (GESA).
Rectal Cancer Surgery - Dr Golani's is highly skilled in performing Laparoscopic ventral mesh rectopexy for rectal prolapse.
Anal Fistulas & Fissures - Dr Golani can help with the treatment of the issue of painful anal fistulas & fissures.
Additionally, he has a keen interest in minimally invasive surgery including robotic surgery for increased surgical precision.
Dr Golani operates at Sydney Adventist Hospital (SAN), the Mater Hospital and Norwest Private Hospital.
Dr Golani has public appointment at Hornsby Ku-ring-gai Hospital where he is actively involved in the training of younger surgeons for the Royal Australasian College of Surgeons.
Dr Golani has completed over 20 years in surgery. He has extensive experience across colorectal & general surgical conditions. He is also published his research articles in both Colorectal and General Surgery Journals. His articles have been referenced by peer review journals and policy papers.
He consults in Hornsby at The Madison Building as well as at Mater Hospital. All clinic locations have convenient access to free parking and public transport.