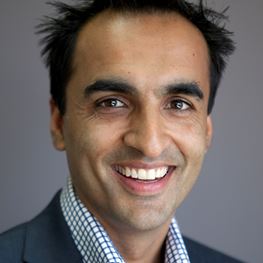 Areas of Interest
Arthroplasty (hip and knee replacement)
Trauma (fractures)
St Vincent's Private Hospital Sydney, NSW
St Vincent's Clinic
Suite 403
Level 4, 438 Victoria Street
Darlinghurst NSW 2010
T: (02) 9519 1919
F: (02) 9519 1909
RPAH Medical Centre,
Suite 101, 100 Carillon Ave
Newtown NSW 2042
T: (02) 9519 1919
F: (02) 9519 1909
Suite 4, 341 Crown Street
Wollongong NSW 2500
T: (02) 9519 1919
F: (02) 9519 1909
Biography
Dr Sanjeev Gupta is a highly experienced orthopaedic surgeon with particular expertise in hip and knee replacements. He also has special interest in treating injuries associated with trauma.
Dr Sanjeev Gupta is a widely respected orthopaedic surgeon specialising in hip and knee surgery including replacements and arthroscopic knee surgery. His other key interest is trauma surgery and he is heavily involved in the management of complex trauma, and subsequent reconstructive surgery. As an orthopaedic trauma Surgeon at RPA, he is responsible for the management of complex major trauma and secondary reconstructions.
Sanjeev graduated from the University of Sydney in 1999 and completed his orthopaedic training in Sydney. He then undertook multiple subspecialty orthopaedic fellowships at world leading institutions such as the Hospital for Special Surgery (New York, US), Harvard (Boston, US) and Johns Hopkins and Mercy Hospitals (Baltimore, US). He has spent many years learning from some of the top surgeons in the world.
Sanjeev is also fellowship trained in reconstructive foot and ankle surgery and is involved in the treatment of both recreational and elite athletes. Committed to teaching and education, Sanjeev is actively involved in training at all levels, from student through to fellowship. He is currently the co-director of the NSW Registrar Training Program, and is part of the federal training committee for the Australian Orthopaedic Training Program. Sanjeev is also a faculty member of the AO Foundation – a non-profit organisation responsible for the teaching of trauma surgery worldwide. A clinical lecturer at the University of Sydney, Sanjeev has co-authored numerous clinical research publications and is regularly invited to speak internationally.