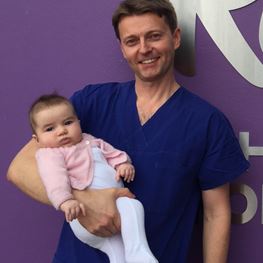 Specialities
Maternity (Obstetrics)
Gynaecology
Areas of Interest
Normal birth and high risk obstetrics
Abnormal pap smears and colposcopy
Laparoscopic surgery and general gynaecology
Mater Hospital, North Sydney, NSW
Suite 1.03
Polaris Building
150 Pacific Highway
North Sydney NSW 2060
T: (02) 0401 249 092
F: (02) 8088 6697
Level 1
Specialist Clinics of Australia
300 Barangaroo Avenue, Barangaroo NSW 2000
T: (02) 8459 0312
F: 1300 88 05 66
Biography
Dr Sean Burnet is an experienced obstetrician who is passionate about providing an individualised birthing experience for all parents.
As a parent himself, Dr Sean Burnet fully appreciates the stress and anxiety that can present around pregnancy and childbirth. He is actively committed to recognising the mother's decision-making autonomy regarding her childbirth experience and deliberately limits patient numbers to achieve this personalised care. As a qualified laparoscopic surgeon, Sean is experienced in both low and high-risk pregnancies and has the necessary skills to minimise any danger to both mother and baby.
Sean completed his training at The Royal Hospital for Women in Sydney with a subsequent fellowship in advanced laparoscopic and pelvic surgery at Sydney West Advanced Pelvic Surgery Unit (SWAPS). He has been working in obstetrics and gynaecology in Sydney for over 15 years as well as lecturing and teaching medical students at Sydney University and the University of NSW.