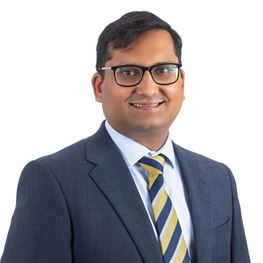 Specialities
Anaesthetics
Pain Medicine
Areas of Interest
Neuropathic pain and MSK conditions
Neuromodulation
Regenerative medicine
St Vincent's Private Hospital Werribee, VIC
St Vincents Private Hospital
240 Hoppers Lane
Werribee VIC 3030

Biography
Dr Shankar Ramaswamy is a highly trained Pain Specialist and Anaesthetist. He was a five-star rated UK based specialist with substantive appointments at St Bartholomew's and Royal London Hospital (public sector) as well as at leading private hospitals in the prestigious Harley Street and London Bridge areas in Central London and East London.
Dr Shankar Ramaswamy has also held leadership and academic appointments in Pain Management and Anaesthesia with active involvement in research, undergraduate and postgraduate education. He has numerous publications to his credit including original research articles, review articles and chapters in prominent textbooks. He has also delivered several national and international lectures. He holds an Honorary Senior Lectureship with the University of Edinburgh and is the course director for their MSc Pain Management program.
Dr Ramaswamy has been awarded his full Fellowship as an Australian Pain Fellow FFPMANZCA by Faculty of Pain Medicine Board – ANZCA.
He achieved his medical doctorate in anaesthesia as a medal scholar from Postgraduate Institute of Medical Education and Research (PGIMER) in Chandigarh, which is a leading Indian postgraduate medical educational centre. He then went on to train at the prestigious South East Scotland rotation based in Edinburgh and undertook an Advanced Pain Fellowship in London, at Imperial Healthcare.
Expertise:
Dr Ramaswamy is vastly experienced in managing patients with acute, chronic and cancer pain. He treats patients with wide variety of conditions such as neck pain, back pain, post-surgical pain, headache, facial pain, chronic musculoskeletal and joint pain, fibromyalgia, CRPS and neuropathic pain, abdomen-pelvic pain, sports injuries, cancer pain and whiplash.
He has considerable expertise in a wide range of pain interventions and anaesthetic procedures including: X-ray and ultrasound-guided interventions, epidural/root block, cervical and lumbar facet joint/medial branch injections, radiofrequency treatment to medial branch/nerve roots or peripheral nerves, complex pain interventions e.g. splanchnic, nerve/ hypogastric plexus block, advanced laser therapies, regenerative medicine techniques and neuromodulation (spinal cord, DRG stimulation and peripheral nerve stimulation).