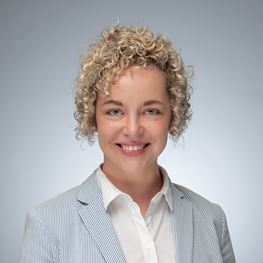 Areas of Interest
Structural Heart Disease
Heart Failure
Adult Congenital Heart Disease
Mater Hospital, North Sydney, NSW
Cardiology at the Mater,
Suite 1.11 Mater Clinic
3-9 Gillies St
North Sydney NSW 2060
T: (02) 8904 9301
F: (02) 8904 9295
Biography
Dr Sophie Offen is a clinical cardiologist with a broad interest in all areas of adult cardiology. Her sub-speciality and research interests include structural heart disease, adult congenital heart disease and heart failure. Dr Offen is skilled across a range of cardiac imaging techniques including transthoracic echocardiography, stress echocardiography and transoesophageal echocardiography. She also uses cardiac MRI as part of her research.
Dr Offen graduated from medicine with First Class Honours at The University of Sydney and went on to do her specialist Cardiology Training at St Vincent's Hospital in Sydney. She is currently completing her PhD at Royal Prince Alfred Hospital, in association with the University of Sydney, for which she was awarded a National Health and Medical Research Council post-graduate scholarship. Her research focuses on structural heart disease, in particular, the role of multi-modality imaging and minimally invasive treatment options for tricuspid valve disease. Dr Offen in also completing a Fellowship in Adult Congenital Heart Disease.

Dr Offen has a keen academic focus and has presented her research both at multiple national and international conferences, as well as by publication in peer-reviewed journals. In addition, she maintains an academic appointment at the University of Sydney as a Clinical Lecturer in the Discipline of Medicine, where she is actively engaged with medical teaching.