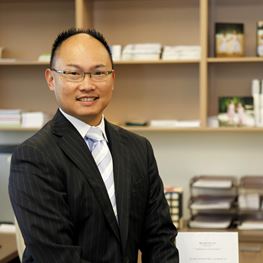 Specialities
Maternity (Obstetrics)
Gynaecology
Areas of Interest
High risk Obstetrics and older mothers
Infertility
Menstrual disorders
Laparoscopic (keyhole) surgery
Mater Hospital, North Sydney, NSW
Suite 1.04, Mater Clinic
3-9 Gillies St
North Sydney NSW 2060
T: (02) 9923 4222
F: (02) 9923 4242
MediCentral Sydney
Level 11, 501 George Street
Sydney NSW 2000
Biography
Dr Steven Tan is a specialist obstetrician and gynaecologist with a strong emphasis on a non-interventional normal delivery.
Dr Tan's interests lie in high risk pregnancy, infertility and gynaecological issues. He has a small practice with a focus on healthy patients delivering healthy babies. His priority is listening to the needs and special requirements of each patient. He has a caring, patient manner and is family-focused.
Patients of Dr Tan can be assured of being cared for and having direct help at every stage of the pregnancy. You can work together from the initial consultation to the implementation of your own personal birth plan, and follow up. Dr Tan has enormous experience in high risk obstetrics and older mothers. He is a skilled surgeon and has an excellent and caring team. He is an expert in infertility, menstrual disorders and abnormal pap smears. His services involve the latest keyhole (laparoscopic) surgery technology.
Dr Steven Tan completed university studies with honours at UNSW, then undertook postgraduate training in Australia and England.
Affiliations & Memberships