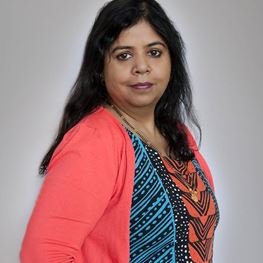 Specialities
Maternity (Obstetrics)
Gynaecology
Areas of Interest
High-risk obstetrics
Menstrual disturbance
Infertility
Pre-pregnancy planning
Urogynaecology
St Vincent's Private Hospital Fitzroy, VIC
St Vincent's Private Hospital Werribee, VIC
Consulting Suites
St Vincent's Private Hospital Werribee
240 Hoppers Lane
Werribee VIC 3030
Biography
Dr Sujata Hemrajani is an obstetrician and gynaecologist who is dedicated to providing high quality compassionate care that supports women at all stages of their lives
She has a clinical interest in high-risk obstetrics, gynaecological ultrasound, menstrual disturbances, infertility and urogynaecology.
Sujata completed her advanced obstetric and gynaecological training at St Stephen's Hospital in Delhi in 1998. She commenced private practice in 1999, holding an appointment as Associate Professor in Obstetrics, Gynaecology and Infertility at the Mahatma Gandhi National Institute of Medical Sciences in Jaipur.
Since moving to Australia in 2003, Sujata has worked in a number of Victorian hospitals, completed her Fellowship of the Australian and New Zealand College of Obstetricians and Gynaecologists, and undertaken an additional Diploma of Diagnostic Ultrasound.