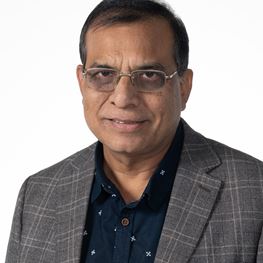 Dr Tapas Chakraborty
MBBS, MD, DNB, CCST, FRCP (UK), FRACP
Languages: English
Specialities
General Medicine
Geriatric Medicine
Areas of Interest
Diabetes
Non- interventional cardiology
TIA and stroke medicine
Geriatric medicine
St Vincent's Private Hospital Toowoomba, QLD
Infinity Specialists, Suite 2, Level 2 (Entrance 2)
St Vincent's Private Hospital Toowoomba
22-36 Scott St, Toowoomba
T: (07) 4580 0822
F: (07) 4580 0844
Biography
Dr Tapas Chakraborty is a General Medicine Physician.
He has special interests in the diagnosis and management of:
diabetes
non- interventional cardiology
TIA and stroke medicine
geriatric medicine
Dr Chakraborty trained in the United Kingdom where he held the position of Clinical Lead for general and acute medicine prior to his arrival in Australia in 2018. Dr Chakraborty has worked as a Staff Specialist Physician in General Medicine in both the private and public sectors in Australia since 2018, having recently relocated with his family from Mackay.
Dr Chakraborty is a Fellow of the Royal College of Physicians, Edinburgh and an International examiner for MRCP. He was an honorary senior lecturer for medical students at James Cook University in Townsville. Whilst in the United Kingdom he participated in several multinational trials, publishing multiple case reports.
Dr Tapas Chakraborty is committed to providing health care to the residents of Toowoomba and surrounding areas in both the private and public divisions.