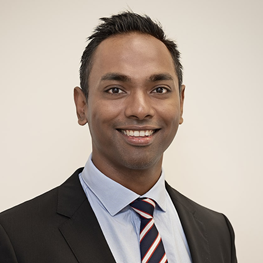 Areas of Interest
Shoulder reconstruction
Shoulder arthroscopic and replacement surgery
Shoulder instability
Cuff tears
Biceps tear
Mater Hospital, North Sydney, NSW
Sydney Orthopaedic and Reconstructive Specialist Centre
Suite 201, Level 2
490 Pacific Highway
T: 02 9950 6100
F: 02 9060 6203
Biography
Dr Terence Rae Moopanar is an Orthopaedic Surgeon specialising in shoulder and elbow surgery, complex trauma, major limb reconstruction, musculoskeletal infection, sarcoma and complex arthroplasty surgery.
After completing his training at Sydney University and the Australian Orthopaedic Association Training Scheme, Dr Moopanar obtained prestigious orthopaedic fellowships at the Shoulder Research Institute (Royal North Shore Hospital) and the world renowned Royal National Orthopaedic Hospital (London, UK).
Dr Moopanar has completed a PhD in musculoskeletal physiology with scholarship and prize at the University of Sydney and has a number of publications in leading journals and textbooks. He has also presented at several national and international conferences. Dr Moopanar is also a Clinical Senior Lecturer (with qualification) at The University of Sydney.
In addition to North Shore Private Hospital, Dr Moopanar works as a Consultant Orthopaedic Surgeon across several public hospitals including Royal North Shore Hospital, Ryde Hospital and Nepean Hospital. His private consulting rooms are located in St Leonards and Penrith.
In his spare time Dr Moopanar is a family man who loves spending time with his wife and 3 kids. He is also very passionate about fitness and enjoys visiting the gym, swimming and the occasional round of golf.