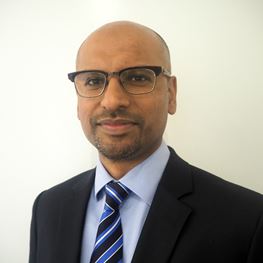 Areas of Interest
Diagnosis and management of arrhythmias
Implantable devices
St Vincent's Private Hospital Fitzroy, VIC
St Vincent's Private Hospital Werribee, VIC
Dr Uwais Mohamed also takes Public Hospital appointments at St Vincent's Public Hospital, Melbourne.
Werribee Heart
242 Hoppers Lane
Werribee VIC 3030
T: (03) 9908 2999
F: (03) 8742 7788
Suite 33, Level 3,
141 Grey Street,
East Melbourne VIC 3002
T: (03) 9928 6060
F: Fax: 9928 6065
Biography
Dr Uwais Mohamed is a cardiologist and electrophysiologist who is highly experienced in the diagnosis and management of arrhythmias including atrial fibrillation (including catheter ablation techniques), supraventricular tachycardia and ventricular tachycardias, as well as implantable devices such as pacemakers, defibrillators, monitoring devices and heart failure devices.
Wes started the Electrophysiology Laboratory at St Vincent's Private Hospital in 2009, a centre that now has the capacity to undertake complex ablation. He's on the cutting edge of device technology and was the first to insert a LINQ loop recorder and first leadless pacemaker in Victoria. He's involved in a number of ongoing research clinical trials, affording his patients access to the latest medical developments.
Wes also mentors other electrophysiologists. His passion for teaching sees him lecture medical students through the University of Melbourne, and train future specialist fellows through the Royal College of Physicians.
Affiliations & Memberships