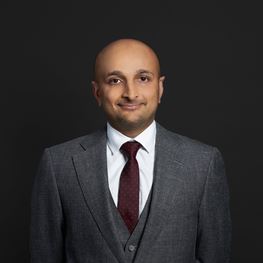 Specialities
Plastic & Reconstructive Surgery
Areas of Interest
Skin cancer and melanoma
Burns
Complex microsurgical reconstruction
Body contouring surgery
Mater Hospital, North Sydney, NSW
Suite 101, Level 1
AMA House
69 Christie Street
St Leonards 2065
T: (02) 9439 1123
F: (02) 9439 0309
Biography
Dr Harish is a Specialist Plastic, Reconstructive and Burns Surgeon specialising in skin cancer and melanoma, burns, complex microsurgical reconstruction and body contouring surgery.
In addition to his private practice, he holds prestigious consultant surgeon positions at two major Sydney tertiary public hospitals – Royal North Shore Hospital and Liverpool Hospital – as well as senior lecturer titles with both the University of Sydney and University of New South Wales.

After graduating from the University of New South Wales with First-Class Honours and academic accolades, Dr Harish undertook junior medical training at Royal Prince Alfred Hospital (RPAH). During this time, he completed a Master of Surgery degree through the University of Sydney under the supervision of Emeritus Professor John Thompson and Dr Kenneth Lee. Before long, Dr Harish was selected to undertake advanced, rigorous surgical training in Plastic and Reconstructive Surgery under the auspices of the Royal Australasian College of Surgeons.

Upon completion of his surgical training, Dr Harish was selected for competitive international subspecialty fellowships in microsurgery and burns in the United Kingdom and New Zealand. He was granted a highly contested Younger Fellows Scholarship by the Royal Australasian College of Surgeons to support his subspecialty training overseas. Dr Harish returned to Sydney and took up consultant positions at premier plastic surgical units at Royal North Shore and Liverpool Hospitals, where he mentors the future generation of Plastic Surgeons.

In addition to his clinical work, Dr Harish continues to engage actively in research and supervises a number of Masters of Surgery and Doctor of Medicine postgraduate students. He was recently appointed by the Australian Society of Plastic Surgeons as an Associate Editor to the Plastic & Reconstructive Surgery journal, the premier medical journal worldwide in the field of plastic surgery.