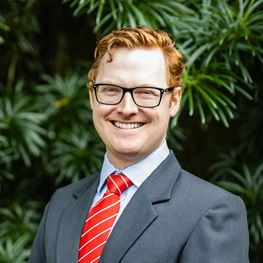 Areas of Interest
Hip surgery
Knee surgery
Shoulder surgery
Trauma surgery
St Vincent's Private Hospital Northside, QLD
St Vincent's Private Hospital Northside
Brisbane Orthopaedic Specialist Services
Ground Floor Medical Centre
627 Rode Road
Chermside QLD 4032
Biography
Dr William O'Callaghan is an Orthopaedic Surgeon consulting and operating at St Vincent's Private Hospital Northside.
Dr O'Callaghan is an Australian trained Orthopaedic Surgeon who specializes in surgery of the knee, hip, shoulder, and trauma. Dr O'Callaghan performs arthroplasty, arthroscopy, soft tissue reconstruction and revision surgeries for all three major joints. He routinely uses robotics, computer navigation, patient specific instruments and 3D planning to complement his surgical technique. Additionally, he is proficient in limb trauma and complex fracture care.
Brisbane born and raised, Dr O'Callaghan studied both Physiotherapy (BPhyt Hons) and postgraduate Medicine (MBBS) at the University of Queensland. He undertook specialist orthopaedic training in Queensland with the Royal Australian College of Surgeons. Dr O'Callaghan undertook additional sub-specialty training in knee, hip and shoulder reconstructive surgery; completing the Orthopaedic Research Institute of Queensland (ORIQL) postgraduate clinical fellowship in Townsville. He continued to work in FNQ as a full-time orthopaedic specialist at Cairns hospital from 2020 until returning home to Brisbane in 2023.
Dr O'Callaghan has a keen interest in research and is published across a range of orthopaedic topics in international peer-reviewed journals. He is very interested in innovation and is currently undertaking several research studies to further advance the practice of orthopaedics. He is an active, accredited supervisor of trainee surgeons. When it comes to orthopaedics, Dr O'Callaghan strives to apply the best clinical knowledge, technology, and techniques to each individual patient's circumstances to provide bespoke, holistic care to the highest standards of excellence.
Dr O'Callaghan is both a Fellow of the Royal Australian College of Surgeons (RACS) and a Fellow of the Australian Orthopaedic Association (AOA). He is also an associate member of the Orthopaedic Research Institute of Queensland (ORIQL)
Affiliations & Memberships