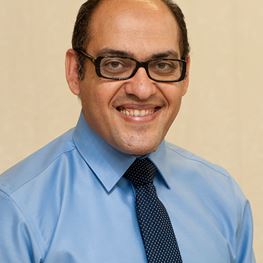 Specialities
Cancer
Colorectal
General Surgery
Areas of Interest
Laparoscopic colorectal surgery
Colorectal and pelvic floor diseases
Benign colorectal diseases: IBD
Mater Hospital, North Sydney, NSW
Northern Sydney Colorectal Clinic
Suite 402
AMA House
69 Christie Street
St Leonards NSW 2065
T: (02) 9436 4550
F: (02) 9436 4552
Biography
Dr Yasser Salama is an experienced colorectal surgeon with particular expertise in minimally invasive surgery. He diagnoses and treats a wide range of related conditions.
Dr Yasser Salama is a general and colorectal surgeon. He has special expertise in minimally invasive laparoscopic colon and rectal cancer surgery as well as complex incisional and parastomal hernia repairs and intestinal endometriosis. He also performs interventional and diagnostic colonoscopies and keyhole surgeries. Yasser treats prolapses and related diseases such as Crohn's disease, ulcerative colitis and diverticular disease.
He was awarded his masters degree in surgery in New Zealand where he also trained in general surgery. He subsequently completed his post fellowship training in colorectal surgery in Australia. Yasser is a fellow of the Australasian College of Surgeons and has worked at the Princess Alexandra Hospital (Brisbane) and Royal North Shore Hospital (Sydney) where he is currently a consultant staff specialist. He is also a VMO at North Shore Private and the Mater Hospital.