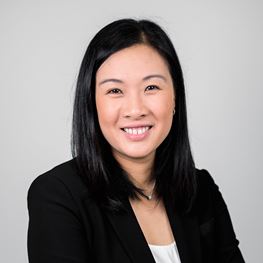 Specialities
Ear Nose & Throat (Otolaryngology)
Areas of Interest
Rhinology & Sinus surgery
Paediatric ENT
Mater Hospital, North Sydney, NSW
Northern Beaches Hospital
Suite A12, Level 1, 24 Lexington Dr
Bella Vista NSW 2153
T: 02 8882 9477
F: 02 8824 8414
Suite 6, 12 Tryon Rd
Lindfield NSW 2070
T: 02 8090 2525
F: 02 8072 6838
Biography
Dr Fiona Ting is a fellowship trained adult and paediatric Ear, Nose and Throat (ENT) surgeon. She treats a wide range of ENT disorders and has a special interest in nasal and sinus disorders and paediatric ENT.
Fiona attended and graduated medical school at the University of New South Wales with first class honours. She completed her surgical training in Otolaryngology Head and Neck Surgery in NSW and was admitted to the Royal Australasian College of Surgeons in 2017. Following this, Fiona undertook subspecialty training in rhinology and anterior skull base surgery at Guy's and St Thomas' Hospitals in London, UK.

Fiona has an interest in research and has presented at national and international conferences as well as having published journal articles and co-authored a textbook chapter. She is currently involved in training junior doctors. ​​

Fiona supports equality and diversity in medicine and surgery. She is a member of the RACS Women in Surgery and has an interest in inclusion and diversity in surgery. In her spare time she enjoys travel, being a mum and wife, and the occasional game of golf.
Affiliations & Memberships