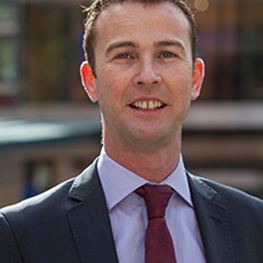 Specialities
Oral Surgery (Maxillofacial)
St Vincent's Private Hospital Kew, VIC
Suite 5, Level 10
20 Collins St
Melbourne VIC 3000
T: (03) 9654 4400
F: (03) 9650 4874
Andrew Clark Orthodontics
3 Barkly St
Warragul VIC 3820
Casey Surgical Group
Level 2, 55 Kangan Drive
Berwick VIC 3806
Gippsland Dental Group
23 Breed Street
Traralgon VIC 3844
Biography
Mr Joseph Gunn is a specialist oral & maxillofacial surgeon with degrees in both medicine and dentistry, and extensive further clinical training in surgery. He enjoys all aspects of his chosen specialty and is dedicated to providing excellent care to his patients.
Mr Gunn enjoys practicing the full scope of oral and maxillofacial surgery. This includes dentoalveolar surgery (removal of teeth, including wisdom teeth, placement of implants and bone grafts) and management of facial trauma, as well as treating problems affecting the mouth and jaws. He is particularly passionate about corrective jaw surgery for people with the wide range of conditions that benefit from orthognathic (jaw) surgery.
He is the head of maxillofacial surgery at St Vincent's' Hospital in Melbourne.
In addition, Joseph has a private practice based in Melbourne with a number of consulting locations.
After a brief period as a consultant surgeon in Melbourne, Joseph secured a position as a clinical fellow and travelled to the UK to complete 12 months at the Oxford University Hospitals. During this time, he gained further experience, particularly in the fields of corrective jaw surgery for facial deformity, including cleft lip and palate, head and neck oncology and surgery of the temporomandibular joint (TMJ).
Affiliations & Memberships