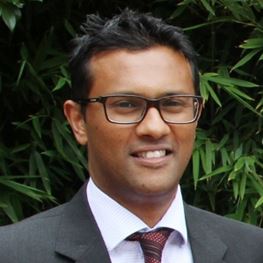 Specialities
Ear Nose & Throat (Otolaryngology)
Head & Neck
Cancer
Areas of Interest
Head & neck cancer surgery
Thyroid & salivary gland surgery
Snoring & sleep apnoea surgery
Sinus surgery
St Vincent's Private Hospital East Melbourne, VIC
Belmore Specialist Centre
7 Belmore Road
North Balwyn VIC 3104
T: (03) 9817 4366
F: (03) 9817 4599
Biography
Mr Dayan Chandrasekara is a Melbourne-based ENT surgeon, experienced in the field of ear, nose and throat surgery who looks to deliver the best treatment advice for optimal patient outcomes.
Mr Chandrasekara performs adult and paediatric ear, nose and throat surgery. He has surgical experience with thyroid and salivary glands, sinus, snoring and obstructive sleep apnoea.
Dayan graduated in medicine from The University of Melbourne and spent a further 10 years of study to obtain his qualification in otolaryngology, (head and neck surgery).
Dayan then undertook additional training in the UK at St George's Hospital, London, where he completed fellowship training in head and neck oncology surgery before returning to Melbourne and setting up his private practice as an ENT surgeon.