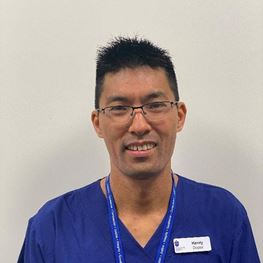 Areas of Interest
Breast Surgery, General Surgery, Endoscopy (Gastroscopy and Colonoscopy), Laparoscopy
St Vincent's Private Hospital Werribee, VIC
St Vincent's Private Hospital Werribee Consulting Suites
240 Hoppers Lane
Biography
Mr Henry To is a Breast/General Surgeon with special interests in Breast Cancer, Cancer Genetics, Endoscopy and breast ultrasound imaging.
He has expertise in malignant and benign breast conditions and genetic interactions, with sub-specialist training in breast reconstructive techniques. He is also able to perform general surgery operations including laparoscopic abdominal surgery, hernia surgery, gastroscopy, colonoscopy and minor skin surgery. He has professional memberships with Breast Surgery Australia/New Zealand, General Surgery Australia and Gastrointestinal Endoscopy Society of Australia.
Henry would like to offer all patients compassionate and comprehensive cancer treatment with holistic surgical care. He would like to ensure patients receive complete care that is accessible and affordable. He has a referral network of equally compassionate doctors for areas outside of his expertise. He is available for telehealth and e-consults with general practitioners.
Henry is a consultant breast/general surgeon and SET training supervisor at Werribee Mercy Hospital, and an Honorary Research/Education Surgeon at the Northern Hospital, Epping. He is a lecturer and tutor for the University of Melbourne and University of Notre Dame.
For more information visit:
https://www.obsc.com.au
Affiliations & Memberships