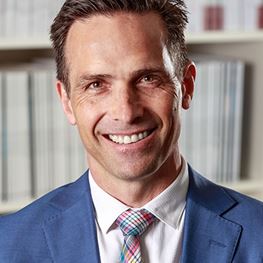 Areas of Interest
Wrist arthroscopy & TFCC pathology
Thumb & finger joint arthroscopy
Carpal tunnel release
St Vincent's Private Hospital Kew, VIC
OrthoSport Victoria
Level 5
89 Bridge Road
Richmond VIC 3121
T: (03) 9038 5200
F: (03) 9038 5209
Olympic Park Sports Medicine Centre
60 Olympic Boulevard
Melbourne VIC 3004
T: (03) 9038 5200
F: (03) 9038 5209
Biography
Mr Jason Harvey is an internationally-trained Melbourne-based orthopaedic surgeon with a special interest in hand, wrist, and elbow surgery. He will explain his diagnosis and recommendations in detail so people have all the facts before proceeding with surgery.
Mr Harvey has a particular interest in arthroscopic surgery and is also involved in research into advanced techniques in surgery of wrist fractures, finger joint replacement and base of thumb arthritis.
Jason graduated from the University of Sydney in 1997. And then went on to intern at Sydney's Royal Prince Alfred Hospital. He then he moved to the USA where he undertook general surgery training at Harvard and Harbor-UCLA, completing his advanced training in orthopaedic surgery at Harbor-UCLA in 2005.
Jason returned to Australia and commenced a hand and peripheral nerve surgery fellowship at Royal North Shore Hospital in NSW and was admitted to the fellowship of The Royal Australasian College of Surgeons in 2007.
Jason is involved in teaching junior doctors and has been on the faculty of a number of advanced teaching courses.
Affiliations & Memberships