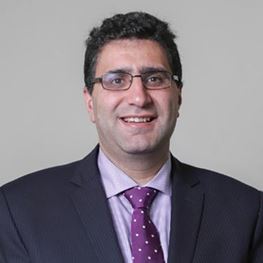 Areas of Interest
Gallstone and gallbladder disease
Cholecystectomy and biliary surgery
Hernias and appendectomy
Small bowel resections
Bile duct tumours and liver malignancies
St Vincent's Private Hospital Werribee, VIC
Werribee Surgical Group Consulting
267 Princes Highway
Werribee VIC 3030
T: (03) 9078 2184
F: (03) 9372 0069
Biography
Mr Nezor Houli is a Melbourne based general surgeon specialising in hepatobiliary and pancreatic surgery. He performs a wide range of procedures and is passionate about offering the best surgical care that's accessible and affordable to all.
Nezor performs major liver, pancreatic and biliary surgeries including: colorectal liver metastasis resection, pancreatic resections for benign/premalignant and malignant lesions, resection for gallbladder cancer and bile duct tumour, liver resections for primary and other malignancies.
Nezor is passionate about training medical students, residents and registrars, and is an Examiner for the Royal Australasian College of Surgeons.
Affiliations & Memberships