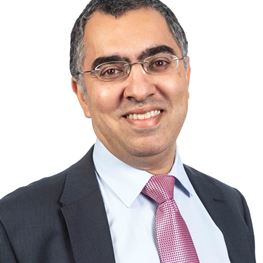 Prof Abdullah Omari
MBBS (Hons) MMED FRACP DDU (Vascular) PhD American Board Vasc. Med. FSVM FACC
Visit specialist website
Languages: English
Areas of Interest
Venous disease
Arterial disease
Peri-operative medicine
Cardiovascular risk assessment
Lymphoedema
St Vincent's Private Hospital Sydney, NSW
Suite 1402, Level 14,
St Vincent's Private Hospital
Sr Francis McGuigan Wing
406 Victoria Street
Darlinghurst NSW 2010
T: (02) 8382 6634
F: (02) 8382 6635
Biography
Professor Abdullah Omari is a dedicated vascular medicine specialist with expertise in all aspects of vascular medical care.
Professor Omari is Head of Department and Senior Staff Specialist in Vascular Medicine at St Vincent's. He is a dedicated doctor, committed to providing the highest level of patient care. He appreciates that expertise in caring for patients with vascular disease requires skills in patient evaluation, vascular diagnostic testing and knowledge of the best available therapies.
He has gained numerous qualifications and is well credentialed to provide the highest levels of care. Abdullah completed his medical degree with honours along with a Masters Degree in Medicine (Clinical Epidemiology) and a Doctor of Philosophy from the University of Sydney.
He received his Fellowship from the Royal Australasian College of Physicians by completing dedicated vascular medicine training and subsequently being awarded board certification in vascular medicine by the American Board of Vascular Medicine.
He has completed a Diploma of Diagnostic Ultrasound and is qualified in vascular ultrasound assessments.
Affiliations & Memberships