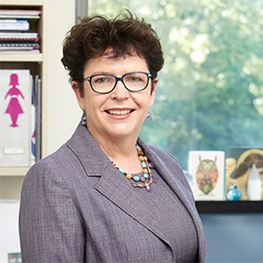 Prof Fran Boyle AM
AM, MBBS, PhD, FRACP
Languages: English
Mater Hospital, North Sydney, NSW
Suite 7, Level 3
Poche Centre
40 Rocklands Road
North Sydney NSW 2060
T: (02) 9957 7744
F: (02) 9954 0808
Biography
Professor Fran Boyle is a highly experienced medical oncologist who specialises in the areas of breast cancer and melanoma. She is passionate about making advances in this field and her practice focuses on researching new treatments as well as developing care and communication.
Prof Fran Boyle is a medical oncologist at North Sydney's Mater Hospital where she is Director of the Patricia Ritchie Centre for Cancer Care and Research. She is also a professor at the University of Sydney where she is heavily involved in structuring the medical oncology teaching program.
For over 20 years, Fran has been involved in setting up clinical trials, supportive care and psychosocial research in breast cancer. She has previously chaired the Board of Breast Cancer Trials, and contributes to clinical trial development nationally and internationally through Breast Cancer Trials and the International Breast Cancer Study Group.
Fran's dedication to improving the understanding of metastatic disease, improving access to new therapies, and involving breast care nurses in cancer care, led to her founding Australia's Metastatic Breast Cancer Alliance.
In 2008, Fran was awarded Membership of the Order of Australia for her contributions to breast cancer research, education, policy and advocacy.
Affiliations & Memberships