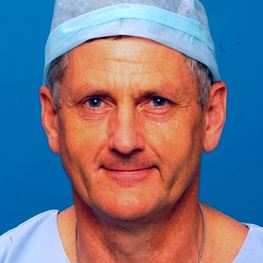 Prof Leigh Delbridge
FRACS FACS
Languages: English
Specialities
Endocrine Surgery
Head & Neck
General Surgery
Areas of Interest
Thyroid and parathyroid surgery
Mater Hospital, North Sydney, NSW
98 Albany Street
Crows Nest NSW 2065
T: (02) 9438 2900
F: (02) 9438 2400
Biography
Professor Leigh Delbridge is Australia's most experienced surgeon in thyroid-related conditions. He continues to advance surgical techniques and has particular interest in understanding how the disease occurs and developing minimally invasive treatments.
Professor Leigh Delbridge is a vastly experienced parathyroid and thyroid surgeon and has been head of the University of Sydney's endocrine surgical unit (the largest in Australia) for over 20 years. He has performed more than 10,000 parathyroid and thyroid operations with over 500 such procedures undertaken each year.
Leigh's clinical practice is confined solely to thyroid and parathyroid surgery and his research interests include the epidemiology of thyroid and parathyroid neoplasia, as well as the development of minimally invasive surgical techniques.
Graduating from Sydney University with a BScMed and an MBBS he completed his surgical training at Royal North Shore Hospital with a research fellowship at The Middlesex Hospital (UK). He joined the discipline of surgery at the Sydney University as a lecturer in 1984. Leigh was appointed associate professor in 1989 and professor of surgery at Royal North Shore Hospital in 1994.
He is currently the president of the International Association of Endocrine Surgeons (IAES), council member of the Asian Association of Endocrine Surgeons (AsAES) and founding council member and scientific coordinator for Australian and New Zealand Endocrine Surgeons (AES). Leigh remains an emeritus professor of surgery at Sydney University.
Committed to pioneering research, he performed the first minimally invasive parathyroidectomy in Australia using endoscopic techniques which was published by the British Journal of Surgery. Leigh has published over 300 papers on parathyroid, thyroid and related topics in peer reviewed journals.