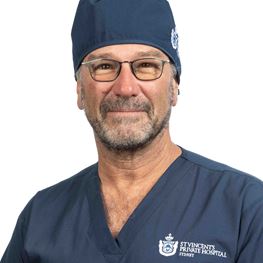 Areas of Interest
Prostate cancer
Prostate cancer imaging
Focal therapy with Nanoknife®
Robotic nerve-sparing surgery
Genomics
St Vincent's Private Hospital Sydney, NSW
Suite 1001
St Vincent's Clinic
438 Victoria Street
Darlinghurst NSW 2010
T: (02) 8382 6971
F: (02) 8382 6978
Biography
Professor Phillip Stricker is a leading expert in the treatment of prostate cancer in Australasia and is a pioneer in prostate cancer imaging.
Professor Stricker has some of the most extensive surgical experience in his field having performed over 2,000 robotic prostatectomies, over 4,000 open prostatectomies, over 480 high-dose-rate and over 1,000 low-dose-rate brachytherapy procedures, over 7,000 transperineal biopsies, and over 250 focal NanoKnife® therapy procedures. Professor Stricker's research interests includes quality of life, potency preservation, imaging and focal therapy, and he's authored close to 140 peer reviewed publications.
He is Chairman of the Department of Urology at St Vincent's Campus, Director of St Vincent's Prostate Cancer Centre and Clinical Director of The Australian Prostate Cancer Research Centre at the Garvan Institute. He holds academic appointments at UNSW, the University of Sydney, UWS and the University of Tasmania.
Affiliations & Memberships