Fitzroy Midwifery Education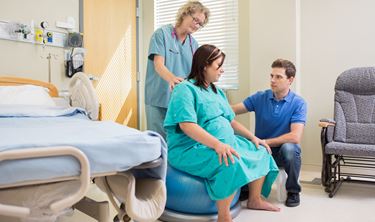 Our midwifery education programs
St Vincent's Private Hospital Fitzroy provides maternity care for women with normal to high risk pregnancies in collaboration with a multidisciplinary team. We have nine birth suites, 30 single postnatal/antenatal rooms, a Satellite Maternity Unit at the Park Hyatt, 12 cot Special Care Nursery with nasal CPAP and high flow oxygen therapy and a perinatal wellbeing midwife.
We welcome applications from all universities. You don't have to have completed a clinical placement with us to apply.
2023 Programs
Applications open: Monday 6 June 2022
Applications close: Midday Friday 8 July 2022
Interviews: Mid July 2022
Intake: 6 February or August 2023
Eligible applicants must have completed a Bachelor of Nursing or equivalent no earlier then:
6 June 2022 (February program)
5 December 2022 (August program)
Applicants must apply via the Allocations & Placement Service – please contact PMCV
Interstate applicants may apply directly to the hospital
We offer full and part time positions (min. 7 shifts per fortnight)
Application Requirements:
Passport photo
Application letter
Succinct CV (three pages max.)
Copy of academic transcript
Copies of midwifery clinical assessment tools (from your last two placements), and if applying for the combined program, a copy of your last acute ward placement (not ICU, Emergency, Paediatrics, Theatre, Mental Health)
Contact details of two professional referees, ideally an educator or ANUM from an acute placement of two weeks or more
Email
PMCV number if eligible
Registration on Workday
Send applications to:
Gabrielle Poulton & Robynne Klyne
Midwifery Education Consultants
St Vincent's Private Hospital Fitzroy
59 Victoria Pde, Fitzroy 3065
Workday registration must be completed by midday, Friday 8 July
Many Universities now use electronic documentation for placement appraisals and academic transcripts. Online documentation is kept securely by the university and these can be submitted without additional certification. Please do not provide links, the document MUST be uploaded in PDF format.
Interviews will be conducted mid July 2022 via Microsoft TEAMS.
For information:
.
Gabrielle Poulton (Mon, Weds, Thurs, alt. Tues) / Robynne Klyne (Tues & Fri)
(03) 9411 7111 pager 551 / 613
gabrielle.poulton@svha.org.au
/
r
obynne.klyne@svha.org.au
We offer three options:
12 month Combined Midwifery & Nursing Graduate Program (Bachelor of Midwifery & Bachelor of Nursing)
- Option of either a medical/surgical rotation OR a Special Care Nursery
12 month Midwifery Graduate Program (Bachelor of Midwifery)
- Option of a Special Care Nursery Program
6 month accelerated Midwifery Graduate Program (Graduate Diploma of Midwifery)
The 2023 midwifery graduate programs are offered to midwifery graduates who:
Have completed their midwifery qualification no earlier than

6th of June 2022 for the February program​
5th of December for the August program
Are eligible to gain registration as a Midwife with AHPRA (www.aphra.gov.au)
Have less than six months experience working as a Registered Midwife and be available to commence on Monday 6th of February 2023 or August 2023.
Aims of the program
The overall aim of the program is to facilitate your transition from student to Registered Midwife. Our Program has been designed to:
Provide rotations to facilitate a comprehensive midwifery experience
Enable you to use your knowledge to achieve quality outcomes
Increase your confidence and strengthen your skills base
Develop your ability to work independently and as a team member
Enhance your decision making and critical thinking skills
Clinical support
You can be confident that you will have the support you need to achieve your goals.
You will be allocated a preceptor/s on each of your rotations and all of our clinical coaches are willing to assist you and provide bedside clinical support and education.
We believe that the combination of supernumerary time and a graduated work load for our graduates assists to ease the transition from student to graduate.
We offer an extensive education program, including paid study days, access to ward based education and fetal surveillance education.
This model is offered to Registered Nurses who
Have had at least 12 months working experience as a Registered Nurse prior to the commencement of the program (at least 2-3 shifts per week in a medical/surgical unit or equivalent over the previous 6 months)
Have successfully enrolled in a 12 month, full time, Post Graduate Diploma of Midwifery course at Federation University or Latrobe University
Be available to commence in February 2023.
Aims of the program
To enable you to achieve the clinical requirements by AHPRA to become a Registered Midwife. We are committed to developing your career and ensuring that your clinical experience will be a rewarding time.
Our Program has been designed to:
Provide rotations in all midwifery areas to ensure you meet the requirements by AHPRA
Increase your confidence and strengthen your skills base
Develop your ability to work independently and as a team member
Enhance your decision making and critical thinking skills
Foster the beginnings of your midwifery career
Clinical experience
To achieve the clinical component of your course, students rotate through Birth Suite, Postnatal and Special Care Nursery. To gain antenatal and community experience, students are allocated days to partner with our Obstetricians in their rooms as well as days in the breastfeeding clinic
The supernumerary model
Post graduate midwifery students are in a supernumerary (unpaid) model for 3 days per week for the duration of their program.
Clinical support
Our students receive
extensive
clinical support on each rotation. You will be allocated a preceptor/s on each of your rotations. Our clinical coaches will provide bedside clinical support and education in a friendly and supportive manner.
The supernumerary model allows flexibility when commencing in a new unit, ensures consolidation of skills and development of time management. We offer education programs tailored to the needs of the individual learner
Applications open:
Monday August 15th 2022
and
Applications close:
Monday August 29th 2022
Applications must include:
Passport sized photo
Cover letter
Succinct CV
Two professional nursing referees
Certified copy of your AHPRA nursing registration
Certified copy of your working with Children's Check
An email address
No emailed or electronic applications will be accepted. You can post (express and registered post recommended) your application or hand deliver to the hospital reception.
Please address applications to:
Gabrielle Poulton
Midwifery Education Consultant
St Vincent's Private Hospital Fitzroy
59 Victoria Pde
Fitzroy 3065
Certification of documents
Documents that have been certified by your university must have the following:
The official university stamp identifying the university, and must be signed by a representative from the clinical school.
Documents certified outside the university such as your proof of identity must follow the AHPRA guidelines for document certification which can be found on the AHPRA website
here
.
Do not provide photocopies of certified documents as this is not in line with AHPRA Guidelines.
We do not require you to assemble your application in a particular order and if you wish you can staple or bind your application.
Interview Process
Interviews will be conducted in mid-September 2022 via Microsoft TEAMS
For further information:
We are also happy to discuss our program via a TEAMS meeting, email, by phone or in person.
Gabrielle Poulton (Mon, Wednesday, Thursday and alternate Tuesday)
Phone: (03) 9411 7487 pager 551
Email:
gabrielle.poulton@svha.org.au
Frequently Asked Questions
Please be reassured that midwives at St Vincent's Private Hospital Melbourne are paid the same as public hospital midwives and receive the same annual leave and superannuation entitlements. Graduate Midwives at St Vincent's Private Hospital attend 4 graduate study days in addition to their study leave entitlements.
We know that you have put a lot of time and effort into preparing your application and we will open and review all applications. Please pay particular attention to your spelling and grammar. It is a good idea to get someone to check your application. Make sure you send in all of the required information. Aim to send in your application at least one week prior to the closing date.

Unsuccessful applicants have often sent in incomplete applications, have made a number of spelling and grammatical errors or have sent in an application intended for another hospital. Unfortunately, we will not be able to offer unsuccessful applicants the opportunity to resubmit part or all of their application. We are happy to answer any questions you have when preparing your application via phone or email

We welcome applications from all Australian universities and it does not matter if you have not had the opportunity to have a placement with us.
Our priority is to ensure that our women receive the highest standard of care and our midwife patient ratio is determined by the acuity and complexity of the care required. As a graduate you will generally care for 4-5 women. (Please note birth suite ratio is 1:1)
Our patients have access to full allied health support such as onsite physiotherapy, dieticians, diabetes educator, social work and ante natal day stay clinic. We also have onsite x-ray departments and pathology. These services also offer great support to nursing staff and are always willing to answer any questions you have regarding their service and also patient care.
Our Obstetricians & Paediatricians actively liaise with the midwives looking after their women and babies. We also have medical and surgical residents/registrars and after hours onsite HMO's who are available to assist you with patient care. Our ICU, Cardiac and HDU units are available for patients who need extensive monitoring and support. You will always have access to the support you need to provide highly quality care for your patients.
As you are employed on an ongoing contract you have the option of applying for a position on the rotating midwifery team or with the casual resource unit.
St Vincent's Private Hospital caters for both women who have low risk and high risk pregnancies. With an onsite adult Intensive Care Unit, our organisation has the facilities to care for women who have additional medical needs or complexities. Additionally, the vast experience of many of our Obstetricians, you will have the opportunity to care for women having vaginal breech births, twins and more complicated instrumental deliveries. The extended length of stay on the postnatal ward will consolidate your knowledge of breastfeeding and enable you to feel more confident with breastfeeding challenges. In 2013, high flow oxygen therapy was introduced into our Special Care Nursery, and in 2014 CPAP was commenced, allowing for babies who would have been transferred to a NICU to remain in our nursery.
Night duty provides a varied experience in midwifery. For those completing a graduate program, the amount will be dependent on each area. For the Graduate Diploma, you may be allocated 2 weeks of night duty in birth suite during your 12 month program.

More information about working for us