Careers Working at the Mater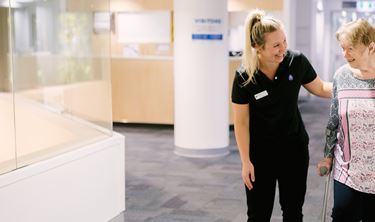 Our state of the art hospital draws on the talent of over 1000 professional and highly skilled staff who are committed to providing exceptional care.


Our remarkable people live our mission in every aspect of their work. Together, we aspire to realise excellence each day, ensuring our actions are also characterised by our core values of compassion, justice and integrity.


If you are looking for a new role, we provide opportunities across many areas of speciality, including cancer services, orthopaedics, maternity and women's health, cardiology and more.


We are also a teaching facility of the University of Sydney and co-located with Mater Clinic and Poche Centre (Melanoma Institute Australia).
Nursing Careers at the Mater
We are an equal opportunity employer and make the professional development of our employees a priority. When employed at the Mater hospital, you will have access to a range of services and benefits, some of the offerings available to staff are:
Salary Packaging
As a not for profit organisation we are able to offer our staff the full benefit of salary packaging. This allows staff to have a proportion of their salary paid as a reimbursement of personal expenses and no income tax is payable on this money.
Staff can also obtain
Novated Vehicle Leasing
Meal Entertainment card - You can pay for your restaurant meals with your pre-tax dollars
Staff can also package
Income Protection Insurance
Holiday Accommodation and Hire
Education and Work Development
Portable Devices
Employee Assistance Program
The Mater hospital employee assistance program is available to all staff and their immediate family offering free high quality confidential counselling services for work related and personal issues.
Health Insurance
Medibank has partnered with the Mater Hospital to offer our employees flexible and wide ranging health cover options at a discounted market rate. Staff enjoy discounts of up to 9% off their chosen cover.
Hospital Benefits
Staff who seek treatment at the Mater hospital may receive reduced rates of their bill and at the pharmacy.
Additional Benefits
Other benefits include Fitness Passport, flu vaccination and discounted rates and access to services provided at our Centre For Wellbeing.