Dr Simon Quinn explains what it's like operating in the new hybrid theatre
By SVHA Northside staff
Over the last two decades, there has been a paradigm shift in the treatment of vascular related diseases. Management has changed from a heavy reliance on traditional open surgical repairs to the entire vascular tree now being accessible to percutaneous interventions. However, over this time, it has become clear that both open surgery and endovascular surgery have their respective place in the modern vascular surgical armamentarium.
As vascular surgical practice has evolved, so too has the requirements for the operating environment. Neither the classic operating room nor the conventional angiography suite is optimal for both open surgery and endovascular procedures.
St Vincent's Private Hospital Northside recently completed the installation of a brand new, state-of-the-art hybrid operating theatre. This facility has directly advanced the quality of care that can be provided to patients with vascular conditions.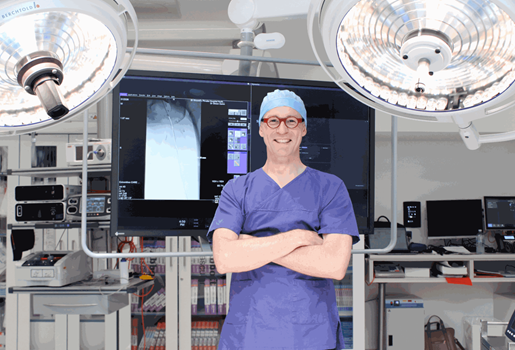 The hybrid operating theatre is a purpose-built, advanced procedural space that combines a traditional operating room with a high-end image guided interventional radiology suite. This combination allows for open surgical procedures and endovascular surgical procedures to be performed in the same space.
Vascular and Endovascular Surgeon, Dr Simon Quinn said, most importantly, the hybrid operating theatre facilitates highly complex, advanced surgical procedures that combine both open and endovascular techniques in the same sitting.
"The floor mounted robotic X-Ray arm allows high fidelity, real-time imaging of blood vessels and the heart to ensure accurate treatment and intervention."
"I treat diseases affecting the arteries and veins throughout the body. The conditions that I treat encompass pathology including aneurysmal disease (enlargement of arteries), carotid artery disease, lower limb arterial disease (narrowing and blockages of arteries), diabetic foot disease, renal dialysis access, varicose veins and deep vein thrombosis," Dr Quinn said.
Many vascular conditions can be life threatening or limb threatening. The successful treatment of vascular conditions can have a huge impact on the patient's quality of life and/or length of life.
Dr Quinn said, "The installation of the hybrid operating theatre at St Vincent's Private Hospital Northside has allowed me to improve the care that I can deliver to my patients in almost every aspect of my practice."
"The Siemens Artis Pheno imaging system allows me to perform minimally invasive procedures with a high degree of accuracy and success. The system is advantageous in the endovascular treatment of both aneurysmal and occlusive arterial disease."
Vascular disease has become more common in Australia. An increase in obesity, Type II diabetes and an ageing population are some of the reasons for this. With the average age of a patient seeing vascular surgeons increasing, minimally invasive vascular surgery has never been more important.
"The improved ability to perform more minimally invasive surgery (afforded by the new hybrid theatre) has resulted in shorter inpatient stays. Further, it has allowed me to treat older and frailer patients more successfully with less physiological stress," Dr Quinn said.
"The hybrid operating theatre is a true team environment. The close collaboration with the radiographers, anaesthetists, assistants and theatre nurses is one of the most enjoyable aspects of the new theatre. We have a very strong team that works well together. I rely heavily on my team in the hybrid theatre."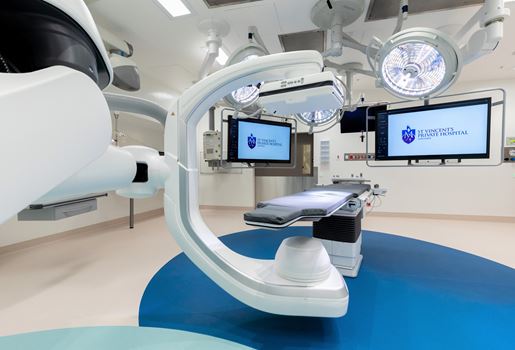 Dr Quinn added the installation of the new hybrid theatre at St Vincent's Private Hospital Northside has been revolutionary for his vascular surgical practice.
"I now have the ability to tailor my management completely to fit each patient individually. I can and choose and perform the most appropriate treatment for each patient without being constrained by the operating room environment," Dr Quinn said.
Dr Simon Quinn , Vascular Surgeon
Dr Quinn is a vascular and endovascular surgeon with an interest in aneurysms, carotid artery disease, claudication, lower limb arterial disease, and diabetic foot. Simon consults at hospitals across Brisbane and is actively involved in educating medical students as a Senior Lecturer at the University of Queensland.