The opening of the Gidget House
St Vincent's Private Hospital Fitzroy
St Vincent's Private Fitzroy is thrilled to celebrate their partnership with the Gidget Foundation by hosting an official opening of a Gidget House on-site.
The Hon Daniel Andrews MP, Premier of Victoria kindly attended the opening of Gidget House at St Vincent's Private Hospital on Monday 30th May 2022, welcoming the service for expectant and new parents to Melbourne.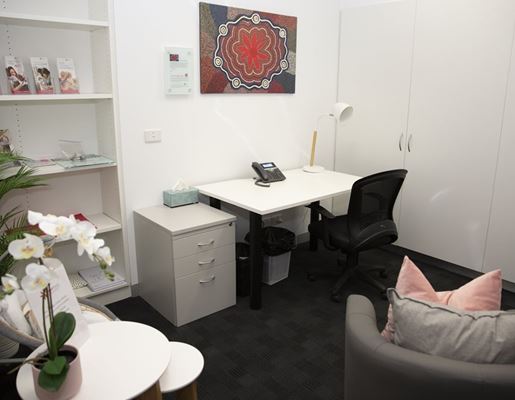 Gidget House located at St Vincent's Private Fitzroy started operating via telehealth in August 2021, the launch marks the official opening and return to face-to-face appointments with 250 consultations already delivered online. The collaboration commences as part our commitment to further support mental health and emotional well-being of our maternity patients.
With one in five new mums and one in ten new dads experiencing perinatal depression and anxiety during the perinatal period. Gidget House local psychologists offer free individual counselling services to assist families through their journey into early parenthood. Offering a blended service of telehealth appointments and valuable face-to-face interaction.
Janine Loader CEO, St Vincent's Private Hospital, Melbourne said of the opening, "We are passionate about not only taking care of our patients physical wellbeing during pregnancy and postnatally, but also their emotional wellbeing. We're excited to expand our mental health offering, welcoming the Gidget House to St Vincent's Private Hospital Fitzroy. The opening of this service helps us meet the growing needs of Melbourne, the Fitzroy location being central and accessible for anyone.


"We are delighted to partner with Gidget Foundation Australia to provide this much-needed support to expectant and new parents throughout their journey. Together our focus on supporting new families align perfectly and so I know the support we are able to offer together will be extremely powerful," says Ms Loader.
Gidget Foundation Australia CEO, Arabella Gibson, said, "Given the challenging times caused by the pandemic, it is now more important than ever for expectant and new parents across Australia to be able to access counselling in person again, in addition to online service via telehealth.
"This opening marks the first launch of the year of our Gidget House program as part of our growth nationally and the first to service families in Melbourne CBD. This collaboration with St Vincent's Private Hospital Fitzroy enables us to open our services to entirely new audience and it's just terrific to provide a new safe space and encourage expectant and new parents to seek help if they need it," Ms Gibson said.