Patients Get the Hotel Dining Treatment
St Vincent's Private Hospital, East Melbourne
"Patient meals are always a tricky issue" reports Carolyn Moore, director of support services, "some patients will be delighted with a meal and the same meal can be disappointing to the next patient. Expectations vary and, coupled with the strict food handling regulations hospitals are faced with, it can be a challenge."
"We engage with our Consumer Representatives regularly regarding this issue and involve them in taste testing menu items, looking at what's on offer as well as how it is presented. Together with patient feedback, this got us thinking about a la carte menus and eventually led to the exciting introduction of room service dining at our East Melbourne site in June 2020."
"Room service dining is the platinum standard for hospital patients. It combines restaurant quality food, hotel style accessibility and clinical excellence" explains Carolyn. "Meals are served at a time that works for the patient, they arrive hot and the variety of choice is increased. It also means, for example, we can now offer all day breakfast if that's what a patient prefers.
Patient feedback has been overwhelmingly positive with comments such as:
"What stood out from other hospitals was the amazing room service food option. Fantastic variety of food, delivered well within the 45 minutes quoted. Plus the food quality was amazing, better than some restaurants I have eaten in."
There are other benefits too, if patients have greater choice and are eating at a time that suits them, they are likely to eat more, resulting in less waste and improved nutrition. Patients with special diets are catered for and we are finding they appreciate having more control over their dietary needs."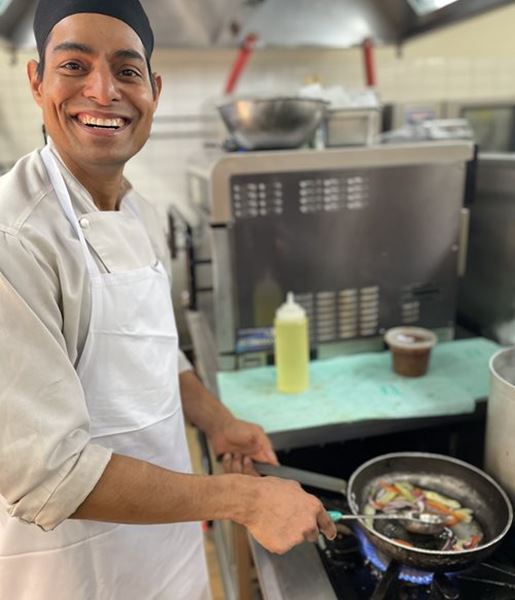 Our Chef at East Melbourne makes all meals fresh to order.