Kew Celebrates 15 Year Anniversary
St Vincent's Private Hospital, Kew
This month we celebrated the 15-year anniversary since St Vincent's Private expanded with the acquisition of Vimy House – now known as St Vincent's Private Hospital Kew.

Initially located on St Kilda Road, the original Vimy house was opened in 1920 by two World War I returned service nurses. It was later relocated to Kew, opening in 1975, and purchased by St Vincent's and Mercy Private in 2008 as a means of further extending our hospital mission and providing excellent surgical facilities for our growing pool of surgeons and patients.

Today, we are lucky to have a number of staff, Doctors and anaesthetists who have continued to work with us including Rob, Senior Theatre Technician, who this week reflected:
"I started at Vimy House back in 2007. Initially I was offered a permanent position after several months of agency shifts. I negotiated a part time position for myself. Within months I had taken control of the techs and equipment and was officially made the head tech and went full time after the acquisition.

The most appealing aspect that has kept me here at Vimy was the culture that the staff were more family than work colleagues. It was different to any other place that I had worked before. We worked for each other to achieve outcomes.

After the acquisition, St V's Kew grew from 3 theatres to 4 and then to 5. A lot has changed from the time I started at this facility. The people, the surgeons, the management and the complex itself. I still prefer to work here than at any other theatre, at any other hospital.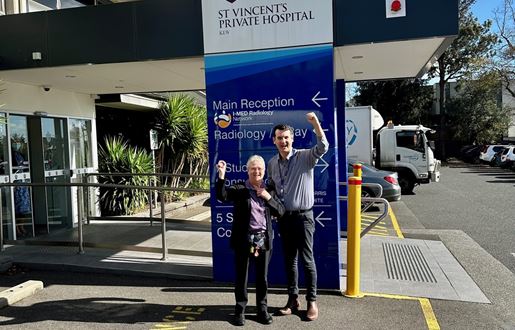 In a nutshell...
We still work for each other.
We still care for each other.
We are Kew."


Incredibly proud of the tight-knit community we have fostered at Kew over the many years, this week we say a big thank-you and well done to everyone who has played a part in the journey so far – and here's to the next 15 years and beyond!