Queensland Ballet brings the joy of dance to patients
By SVPHB staff
St Vincent's Private Hospital Brisbane and St Vincent's Care Services have collaborated with Queensland Ballet to deliver a tailored online dance program for hospital patients and aged care residents
The online program has been developed through extensive consultation between Queensland Ballet's Education Teaching Artists and dedicated clinicians and aged care staff from St Vincent's.
The digital classes combine artistry and movement through a series of fun and engaging activities that mirror a ballet class structure, adapted to be completed seated or standing. The classes offer participants the opportunity to enjoy a creative activity that uses a range of abilities and senses and enables a sense of connection with others when taking part together.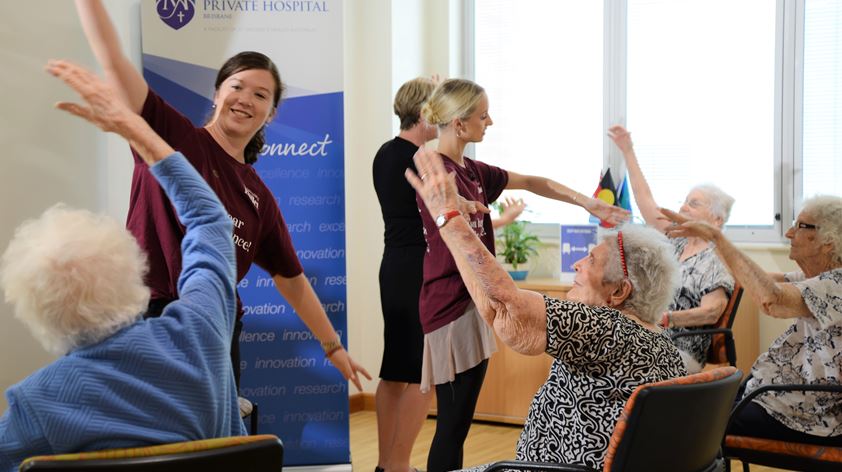 With strict visitor restrictions in-place at hospitals and aged care homes as a result of COVID-19, residents and patients have fewer social interactions with friends and family. The program aims to provide not only the physical benefits of movement, but also the emotional, sparking feelings of joy through the added enhancement of live music accompaniment in the classes.
St Vincent's Private Hospital Brisbane CEO, Mr Oli Steele, said the hospital is proud to partner with Queensland Ballet to deliver this exciting new online initiative to hospital patients and aged care residents supporting them through what has been an incredibly challenging year.
"Patients in hospital and aged care residents can now benefit from the introduction of these new digital resources, thanks to the successful collaboration between staff at St Vincent's Private Hospital Brisbane and St Vincent's Care Services and education artists at Queensland Ballet," Mr Steele said.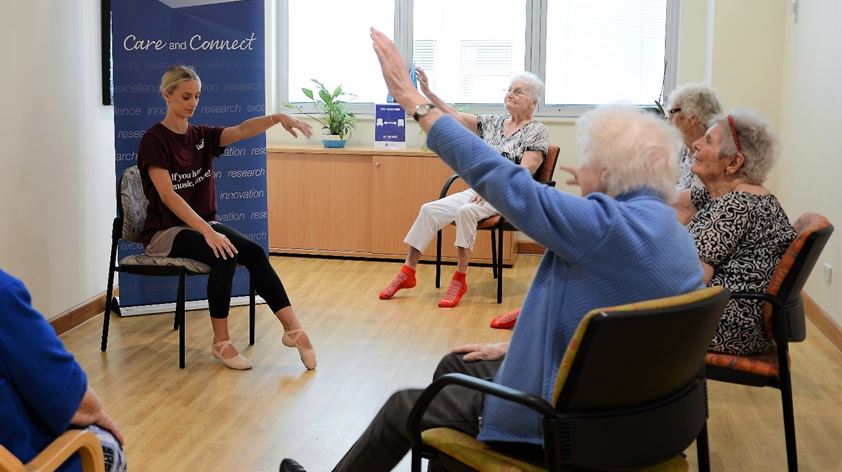 New online classes starting
The program launched on Wednesday 4 November at St Vincent's Private Hospital Brisbane and will run as a pilot program over the course of the next three months.
St Vincent's Private Hospital Brisbane Allied Health Services Manager, Mrs Amanda Bromley, said the program is already showing great promise.
"Since launching the online dance classes on Wednesday 4 November, we have received positive feedback from our patients," Mrs Bromley said.
"The program provides an additional experience to patients to take part in during their hospital stay," Mrs Bromley added.
Exploring new care options
Mr Steele said, "We are committed to exploring innovative models of care to enhance patient experiences in hospital and at home. St Vincent's Care Services adopts the same philosophy with their residents in aged care facilities."
The online digital program was launched at a number of St Vincent's Care Service facilities throughout Queensland in October, starting at Kangaroo Point.
St Vincent's Care Services CEO, Lincoln Hopper, explained that while it has certainly been a tough year for everyone, as aged care providers and hospitals everywhere navigated the unfamiliar and constantly changing path of the pandemic, there were still many opportunities, such as these digital dance classes, for the community to come together and respond really positively.
"Our residents are at the heart of everything we do, so keeping them happy, engaged and connected is our top priority. For me, seeing the impact of this program first-hand, and the way it has ignited something in our community members, makes me extremely proud," Mr Hopper said.
"I know that at St Vincent's, we can accomplish so much, even in the face of adversity. This dance initiative has given both our residential and hospital community something to look forward to and enjoy. Bringing just a little bit of joy into their home is what makes everything worthwhile."
Queensland Ballet Education Manager, Martha Godber, said "We take great pride in the dance health programs that Queensland Ballet delivers and are delighted to be able to adapt the skills and experience of the team to bring a little spark of joy, and perhaps alternate means of physical activity for the residents and patients of St Vincent's."