Rehabilitation
Achieve your goals and get you back to doing the things you enjoy.
St Vincent's Private Hospitals offer a wide range of rehabilitation related services, for details of the rehabilitation services at your local St Vincent's Private Hospital, click here.
We offer highly specialised services to people who need post surgical, pain management, cardiac and neurological rehabilitation.
Rehabilitation is an important part of recovery after orthopaedic surgery, heart surgery, stroke, cancer, amputation or serious illness. It's also an important part of therapy for people living with cardiovascular disease, a brain injury, multiple sclerosis or Parkinson's disease, to name a few.
At St Vincent's Private Hospitals, our vision is to provide you with the service you require, followed by rehabilitation to get you fit for discharge and ultimately back to doing the things you enjoy.
Your rehabilitation therapy starts with an assessment performed by our multidisciplinary team. Your treating team use this information to develop a personalised care plan and set you up with an individual program to meet your needs.
We discuss your plan and your progress with you throughout your rehabilitation therapy as you regain your strength.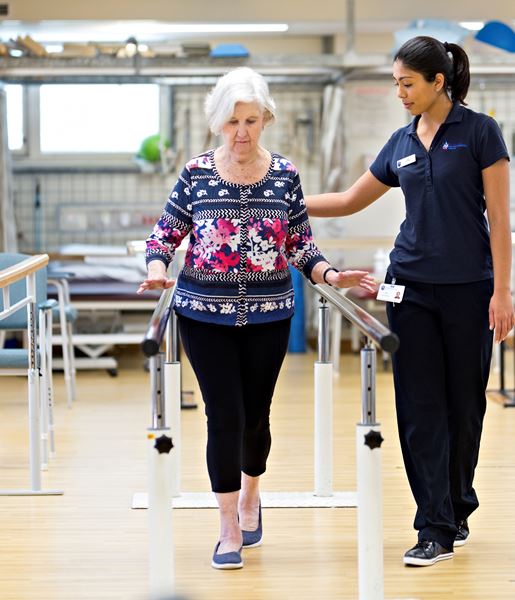 Our rehabilitation team
Our rehabilitation team comprises a highly qualified group of health care professionals. We have rehabilitation physicians with interests and expertise in all aspects of rehabilitation medicine.
Our rehabilitation medicine physicians are supported by teams with training in rehabilitation including:
Our services
Please check your relevant hospital below for their specific services. **Not all services are available at all hospitals.
Musculoskeletal rehabilitation: active rehabilitation physiotherapy for people recovering from fractures, including hip fracture, soft tissue injuries, joint replacements, multiple trauma, and people living with arthritis
Neurological rehabilitation: such as stroke, multiple sclerosis, Parkinson's disease, neuropathy or myopathy
Cardiovascular rehabilitation: following heart surgery, a cardiac procedure, or a diagnosis of coronary heart disease
Older people's general rehabilitation: including increasing mobility, continence and falls prevention
Amputee rehabilitation: pre-operative assessments, pain management assessment and treatment
General reconditioning following a prolonged hospital admission
In addition, we provide rehabilitation for traumatic and acquired brain injury, chronic pain and chronic fatigue, work injuries, injuries following motor vehicle accident and developmental disabilities.
Disclaimer
This information is of a general nature, which may not be relevant to you. Any surgery or invasive procedure carries risk. We encourage you to speak with your doctor about your condition.
Find a hospital near you offering rehabilitation services