Speech Pathology
We help people who are having trouble communicating or swallowing
St Vincent's Private Hospitals offer a wide range of speech pathology related services, for details of the speech pathology services at your local St Vincent's Private Hospital, click here.
Surgery, illness, old age or disability can affect your ability to communicate
Our speech pathologists help people who have communication or swallowing difficulties.
Communication problems may include difficulty speaking, understanding, reading, writing or expressing what they want to say.
Swallowing problems can manifest as coughing when eating or drinking, getting food stuck in the throat, trouble chewing, drooling or painful swallowing.
We work closely with surgeons, physicians and rehabilitation teams to help people of all ages who have had surgery to the head or neck, a tracheostomy, a stroke, injury or have a disability.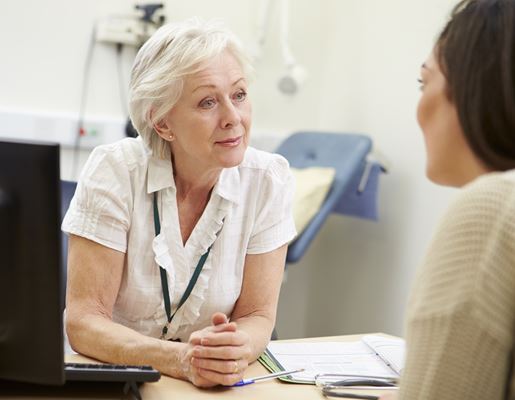 Our speech pathologists are degree-qualified health professionals with expertise in assessing and managing your ability to communicate, eat, drink and swallow.
A speech pathologist often works as part of a multidisciplinary team. They may treat you in individual sessions, with your carers or in a group.
They work with doctors and nurses to treat and care for you during and after your treatment in hospital. They also treat outpatients.
Their goals are to support you as you adapt to any challenges you're facing and to help with your return to optimal functioning.
Our speech pathology services
Please check your relevant hospital below for their specific services. **Not all services are available at all hospitals.
We help people with speech or understanding difficulties due to:
Stroke
Brain tumour or injury
Parkinson's and other neurological diseases
We also treat:
Difficulty swallowing
Vocal cord paralysis or fatigue
Persistent hoarseness or breathiness
Excess clearing of throat
Impaired ability to understand or communicate
Singers experiencing reduced vocal range or volume, vocal tremor, increased or decreased pitch
People requiring accent reduction
Swallowing disorders
Speech pathologists are often called upon to help with swallowing disorders.
A swallowing disorder can affect your ability to be adequately nourished and hydrated. It can also cause embarrassment while eating.
If you have difficulty swallowing, it's also possible to get food stuck in your windpipe, putting you at risk of pneumonia if food particles enter your lungs. A speech pathologist can assess the cause of the swallowing problem and help with strategies to enable you to swallow more easily and safely.
Your speech pathologist may show you exercises to strengthen the muscles involved in chewing and swallowing. You may also need to modify your diet, sticking to foods that are easy for you to swallow, including softer foods and thicker drinks.
Find a hospital near you offering speech pathology services