St Vincent's Private Hospitals offer a wide range of physiotherapy related services, for details of the physiotherapy services at your local St Vincent's Private Hospital, click here.
Our goal is to help you return to optimal functioning after surgery, illness or injury
Our physiotherapists work in partnership with people to help them achieve their personal health and wellbeing goals.
We have group and individual exercise programs that can help improve your mobility, balance and strength .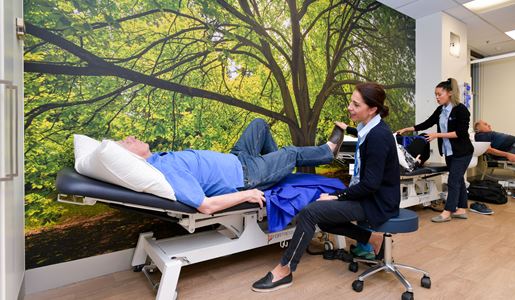 As Allied Health professionals, our physiotherapists are all university degree-qualified and accredited to practice in our hospitals. They're engaged in ongoing professional development.
They work with our doctors, nurses and multidisciplinary teams to treat and care for you during and after your treatment in hospital.
Their goals are to support you as you adapt to any physical challenges you're facing and to help with your return to optimal functioning. They can assist in referring you on for ongoing rehabilitation if required.
Our physiotherapy services
Please check your relevant hospital below for their specific services. **Not all services are available at all hospitals.
Our physiotherapists specialise in the following conditions:
Arthritis
Back and neck pain
Pre and post-surgery
Fractures and trauma
Cancer
Falls, mobility and balance
General musculoskeletal pain
Chronic condition management
Pre and post natal conditions
Our services also aim to aid you following a range of treatments such as:
Orthopaedic, urological or neurological surgery
Cardiac surgery or time spent in intensive care
Following diagnosis of respiratory illness
Following breast surgery
After cancer treatments
Post partum
Injury management
Our treatment methods
Using both hands on and exercise based therapy, we can reduce the pain and stiffness caused by joint problems or soft tissue injuries. By re-educating your muscles, you can achieve greater strength and control over your movements.
We can help you manage your day-to-day activities whether you're living with a disability, or recovering from surgery or illness. We can also help you gain confidence, with use of gait aids such as crutches, a walking stick, a wheelchair.
We also train airway clearance techniques and breathing exercises for patients with respiratory conditions.
Find a hospital near you offering physiotherapy