St Vincent's Private Hospitals offer a wide range of Cancer (Oncology) related services, for details of the Cancer (Oncology) services at your local St Vincent's Private Hospital, click here.
At St Vincent's Private Hospitals we advocate a personalised approach to cancer treatment.
At St Vincent's Private Hospitals we offer a personalised, holistic and evidence-based approach to your cancer treatment. This person-centred approach focuses on you as an individual, with your goals and wishes at the forefront of the decision-making process. We know that there's no one-size-fits-all with cancer.


There are many types of cancers and many different ways people respond to treatment. People also have their personal priorities regarding their journey and the outcomes they hope for from cancer treatment. Our person-centred approach will identify the most effective and appropriate treatments for you, and we will work with you on a plan that incorporates your goals.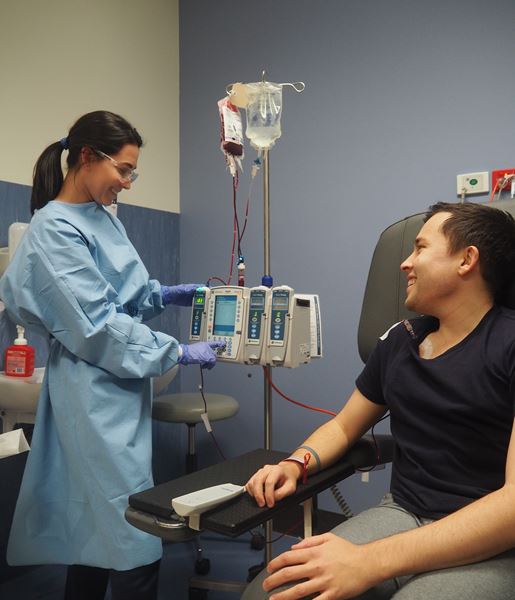 Many of Australia's leading cancer specialists practice at a St Vincent's Private Hospital. We have cancer specialists with interests and expertise in all types of cancer. They are supported by a compassionate team of specialist nurses and allied health professionals available to assist in your treatment and wellbeing, to ensure you receive the best level of care, support and education.
Our cancer specialists have close links with research institutes where novel cancer therapy options may be available to you. Our clinical trials nurses will be on hand to help you navigate your way through your cancer journey.
Many heads are better than one
It takes teamwork to defeat cancer and your treatment will be discussed by our multidisciplinary team. This is a group of health professionals from different backgrounds who meet regularly. It may include such medical experts as cancer surgeons, medical oncologists, haematologists, radiation oncologist, pathologists, radiologist and specialist nurses. Your team may also include pastoral carers and social workers.
This collaborative approach allows the team to meet regularly to discuss all the treatment options relevant for you. They will strive to develop a personal treatment plan with the most appropriate treatment and supportive care for you. This ensures that the approach to your care is both holistic and realistic.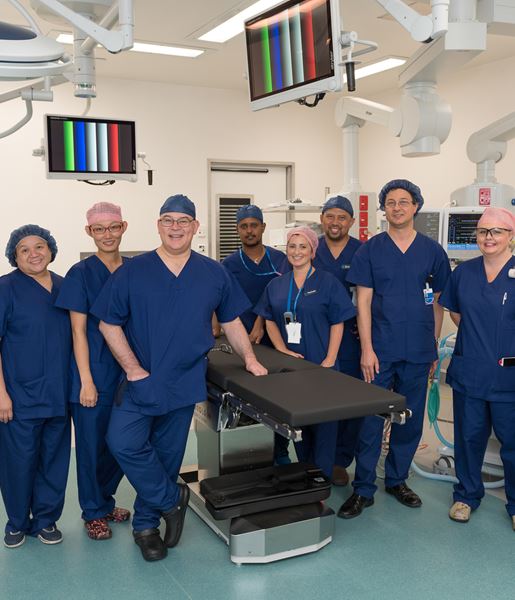 Please check your relevant hospital below for their specific services. **Not all services are available at all hospitals.


Day infusion services
Across multiple sites, our day infusion services specialise in the care and support of people receiving therapies used for the treatment or management of cancer, as well as chronic illness.


These services are staffed by a dedicated professional group of nurses, with a wealth of expertise and skill. They are experienced with a variety of central venous access devices and cannulation. Our teams understand that it's a challenging time for you and have a warm, supportive and collaborative approach to your care.


Cancer care coordinators/clinical nurse consultants
Coordination of your care is a critical element of our person-centred care approach and ensuring optimal cancer outcomes. At the Mater Hospital, North Sydney we have McGrath breast cancer care consultants and cancer care coordinators. These specialist practitioners support and guide you through your cancer journey both clinically and logistically.


Breast cancers
Accustomed to caring for people with breast cancers, our team of experienced health professionals works closely with you and your family to provide outstanding breast cancer services in a supportive environment.


Bowel (colorectal) cancers
We offer minimally invasive surgery as well as robotic technology to treat complex colorectal cancers.


Lung cancers
Our team of specialists collaborate to assess, diagnose and recommend treatment options to achieve the very best surgical and medical outcomes for people with lung cancer.


Prostate and urological cancers
We treat cancers associated with the kidney, bladder, prostate and more. Our expert surgeons employ the latest laparoscopic and robotic techniques when performing surgical treatment for urological cancers.


Other cancers
We also have doctors who specialise in treating haematological malignancies, pancreatic, endocrine, thyroid and parathyroid cancers as well as melanoma and other skin cancers, sarcomas, soft tissue malignancies and gastrointestinal tumours.
Not all services are available in all hospitals.
Disclaimer
This information is of a general nature, which may not be relevant to you. Any surgery or invasive procedure carries risk. We encourage you to speak with your doctor about your condition.
Find a hospital near you offering cancer treatment