St Vincent's Private Hospitals offer a wide range of haematology related services, for details of the haematology services at your local St Vincent's Private Hospital, click here.
Haematologic disorders are involved in many cancers and immune diseases
If your doctor thinks you may have a blood cancer, a bleeding disorder or an immune disorder involving your blood, you may be referred to one of our haematologists (blood specialists) for diagnosis and treatment.
Bone marrow is the tissue inside your bones. It contains stem cells which develop into blood. If you have a bone marrow disorder, your stem cells may not be making the right amounts of blood cells.
Blood cancer is a group of haematologic disorders that affect the way your bone marrow makes blood. There are 3 main types of blood cancer: Leukemia — which starts in the bone marrow, Myeloma — which starts in the white blood cells and Lymphoma — which starts in the lymphatic system but can spread to the bone marrow.
Treatment of blood cancers depends on the type of cancer, how fast it's progressing, how healthy you are and how far the cancer has spread.
Your haematologist may recommend chemotherapy to slow or stop the growth of cancer cells, radiation to destroy cancer cells and/or relieve pain, or stem cell transplantation to replace cancer cells with healthy, blood-forming cells. Often a combination of treatments is recommended.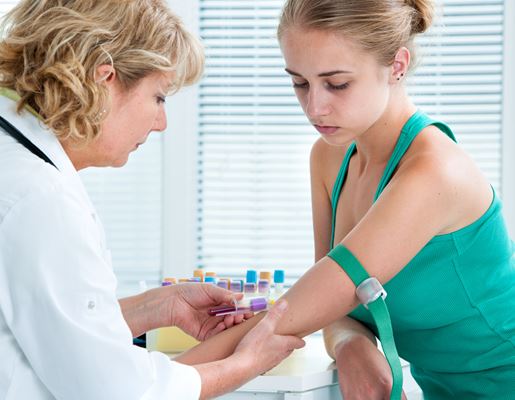 Our clinical haematology services
Please check your relevant hospital below for their specific services. **Not all services are available at all hospitals.
At St Vincent's we have haematologists who specialise in the treatment of a wide range of haematologic disorders including:
Chemotherapy
Radiotherapy
Targeted therapies that fight specific cancer types
Immunotherapy
Bone marrow transplants
Surgery (spleen removal)
Tyrosine kinase inhibitory therapy
Biological therapy
Monoclonal antibodies
Apheresis
Anticoagulation therapies
How stem cell transplants work
A stem cell transplant (also called a bone marrow transplant) is a treatment for certain types of blood cancers. Not everyone with a blood cancer is suitable for a stem cell transplant. Your haematologist would usually recommend one if your blood cancer hasn't responded completely to other treatments.
You must be reasonably healthy before your haematologist will recommend a stem cell transplant. Before you can have one, you first need to have chemo and/or radiation therapy to get rid of all the cancerous cells in your body as well as your own stem cells.
Stem cells can be harvested from your own body or provided by a matching donor. Collected stem cells are infused via a vein into your bloodstream. After a few weeks, the healthy stem cells should start making healthy blood cells. After your stem cell transplant, you need to avoid infections until the stem cells start working, because your immune system won't be working properly.
Find a hospital near you offering haematology