Reimagining prostate cancer treatment with cutting-edge technology
September 2022
St Vincent's Private Hospital Sydney has become a leading training centre for an emerging localised therapy technique, utilised in the treatment of low or immediate-risk prostate cancer.
The NanoKnife System is a new form of less invasive treatment, harnessing the power of Irreversible Electroporation (IRE) technology in which high-powered electric pulses are applied to a targeted area of cells. This electricity is passed through minimally invasive electrodes placed around the diseased tissue.
After enough pulses have been delivered to the targeted area, the cells begin a process that mimics a natural cell death which is a process clinically known as apoptosis.
One of the unique and significant benefits of the NanoKnife system is its ability to destroy the targeted tissue without the need for thermal energy. This means the device can be used in areas of the body located near critical anatomical structures such as blood vessels, nerves or organs, without causing permanent damage.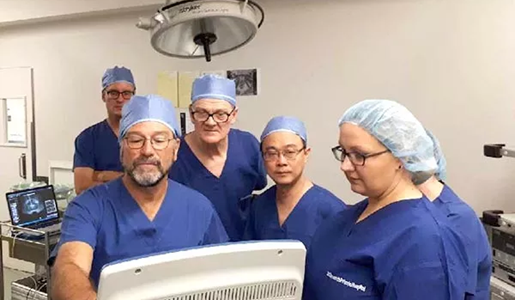 Professor Stricker teaching at The Wesley Hospital.
Professor Stricker is a specialist urologist at St Vincent's Private Hospital Sydney and a leading expert in the treatment of prostate cancer in Australasia. He has pioneered the NanoKnife system on the private campus. He said, "The side effect profile is remarkably low with virtually no incontinence, no rectal damage and no minimal erectile dysfunction.
Already efforts are underway to achieve a Medicare item number so that this will ultimately be easily available to all suitable men with prostate cancer."
St Vincent's Private Hospital Sydney is committed to pioneering advanced emerging technologies that have the ability to enhance accuracy and optimise patient outcomes.
The NanoKnife is representation of this commitment as IRE technology allows the device to be extremely versatile in its use, enabling our specialists to deliver targeted and effective treatment throughout the procedure.
Patients can also be assured that the treatment is highly safe and only requires a day surgery procedure with minimal postoperative pain and much fewer side effects than traditional treatment. This is supported by extensive international research and clinical trials.
"The success rate of this with up to 98% clearance of the tumour has recently been published and presented both nationally and internationally by myself and my team," Professor Stricker said.
"This treatment has also been used as part of the clinical trial (the FIRE trial) in patients who have recurrence of cancer after radiology. Four training sessions per year are now commencing at St Vincent's train further urologists in the technique of applying this in these selected patients."
Professor Stricker has treated over 450 patients at St Vincent's Private Hospital Sydney with the NanoKnife system and has trained and mentored units throughout hospitals in Australia and around the world including the Wesley in Queensland, the Epworth in Melbourne, Cabrini and Monash in Melbourne, Tauranga in New Zealand and Tel Aviv in Israel. He will soon also supervise and train multiple centres in the United State and Canada.
While the NanoKnife may not be best treatment option for all prostate cancer patients, we are privileged at St Vincent's Private Hospital Sydney to offer the treatment alongside the range of techniques we already offer.
Emerging technology such as this will only enhance our commitment to state of the art care, for prostate cancer patients and their loved ones.