St Vincent's Northside Breast Health Centre Turns Five
By SVPHNS staff
St Vincent's Private Hospital Northside is celebrating the fifth anniversary of the St Vincent's Northside Breast Health Centre

In front of a crowd of Queensland Health dignitaries, Hospital Executive and the Archbishop of Brisbane, the St Vincent's Northside Breast Health Centre officially opened its doors on Tuesday 7 April 2015. The event marked the beginning of a new era in breast health on the north side of Brisbane.
The St Vincent's Northside Breast Health Centre offers a state of the art suite of technologies that are among the latest and most comprehensive in breast screening imaging. The equipment includes a 3D digital tomosynthesis mammography machine providing a 40 percent improvement in the rate of early detection of breast cancer (with lower radiation doses than 2D machines) and an advanced ultrasound system that enables early detection of previously undetectable lesions.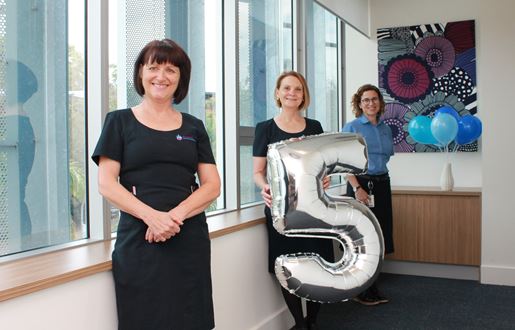 In addition to this impressive technology, the Centre is staffed by a highly experienced team of radiologists, sonographers, radiographers, breast care nurses, breast physicians, pathologists, breast surgeons, medical and radiation oncologists and oncology nurses.
Team commitment
Breast Care Nurse Tracey Schultz has been a part of the team at the St Vincent's Northside Breast Health Centre since its inception and says, "The Centre has experienced significant growth over the past five years, now servicing four times the number of people it did in 2015."
"We work collaboratively as a team to provide a comprehensive breast health care and screening service to the community. Our approach is driven by clinical best practice and we aim to provide excellence in care in everything that we do," Tracey says.
Since its official opening five years ago, the St Vincent's Northside Breast Health Centre has cared for more than 14,500 women, performing a range of diagnostic breast examinations, procedures, breast biopsies and consultations on a weekly basis.
St Vincent's Northside Breast Health Centre Statistics 2019-2020
2,551 diagnostic breast examinations and procedures
3,239 breast centre patient visits
115 diagnosed breast cancer patients